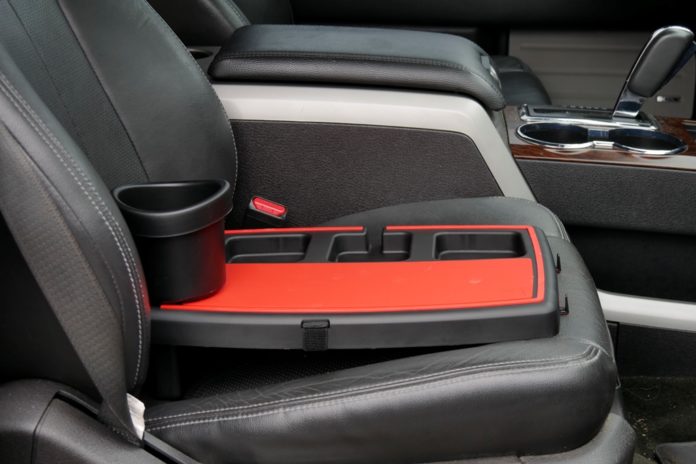 A few years ago we introduced you to the original Classic version of Stupid Car Tray. I liked it back then, and I like it even more now. It is still one of the best "problem solvers" for making your passenger seat (or back seat) a secure, useful space for your stuff while you're driving. It has a flat surface for things like food, provides secure holders for mugs & water bottles, has hooks for a trash bag, and much more. Today we are looking at the Ultimate Bundle which is the new and improved Elite Tray with two cup holder accessories included.
Stupid Car Tray Overview
Think of those situations where you want food or drink secured in your passenger seat. However that ergonomic car seat slant that feels so nice to sit in makes an unwieldy, crumbly, possibly greasy, messy "table".  The Stupid Car Tray solves that problem.  I have seen it in action, loaded with several hefty food items during intentionally aggressive driving conditions.  I can vouch that the Stupid Car Tray works.
The Stupid Car Tray is designed to securely fit on the seat, providing a solid, level surface to place food, drinks, or whatever else you need within arm's reach while you drive. It comes with an integrated, loop-and-hook fastening Cargo Strap that you can use across items like a pizza box (pictured below) or drink tray to keep them securely in place.
Stupid Car Tray Updates

Like the Classic Tray, the new Elite Tray has integrated hooks on the front of the tray to hang a trash bag. The new Elite Tray version is included in the Ultimate Bundle and has the following enhancements over the Classic Tray:
The large flat area has a non-slip Grip Mat
The rear of the tray is secured to the seat with the Stupid Seat Anchor*
It is available in multiple colors
Also, when ordering the Ultimate Bundle you can choose two drink holder accessories: two mug holders, two cup holders, or one each of the cup and mug holders.
As you can see, the drink holders can handle fairly large mugs and fast-food cups. And I love having two extra drink holders – I almost always need at least two, especially on long road trips.
This new Elite Stupid Car Tray comes with the *Stupid Seat Anchor – "aka, "The Bratwurst" — you'll add quick-release convenience and extra snug security for your Stupid Car Tray. Slide in between your seat, clip it in, and pull the strap tight. Boom. You're in." This is a great, improved feature because when turning and breaking, you don't want the tray itself to move around.
Stupid Car Tray – Our Thoughts
The tray's construction and Cargo Strap ensure that your items will keep their location and their shape as you weave through traffic like a maniac. Not only is the Stupid Car Tray convenient it is also a much cleaner and safer way to travel. This tray would be great for delivery drivers, van-lifers, and even kids in the back seat. And we love that all Stupid Car Tray products are designed and manufactured in the USA.
We even tested the Stupid Car Tray with an intentionally large pizza that, at first glance, overwhelms the tray.  Even though the pizza goes beyond tray borders as you can see it is still level – wrap the Cargo Strap on this box and you'd be good to go.
Stupid Car Tray – Wrap Up
You can purchase any of the Stupid Car Tray products on Amazon. With the Stupid Car Tray secured in place, you can rest assured that whatever happens to you or the car while driving, the food will be ok.  And in the end, the food is what really matters.