One fun aspect of working in a trade is all the different jobsites you get to work at – except when a jobsite is...
So you want to grill the perfect hot dog? Well, you're in luck.  Here is the How to Grill the Perfect Hot Dog guide. Hot...
Back in April, Dan and I had the pleasure of visiting the Weber company headquarters in Palatine, Illinois — practically in our own backyard!...
In 2019, Walmart partnered with HART Tools to provide the everyday consumer with affordable power tools and equipment that get the job done. HART...
Late 2022, Husqvarna unveiled its new line of Xcite™ Zero-Turn Mowers and two new mower models, the Z350 and Z380. This line of mowers was...
An Impact Driver is an extremely handy tool to have around for fasteners.  They are powerful and can pretty much handle any fastening job. ...
When I think of Hilti, I think of professional tools working on large projects such as bridges and skyscrapers.  I think rotary hammers, jackhammers,...
Summer is coming and so are the pool parties, tailgates, bonfires, and really any reason to eat and drink outside. All of these outings...
When it comes to electrical supplies and tools, Southwire is leading the pack.  They develop innovations to help the contractor make their life easier...
There is an old saying that you only need two things in your toolbox, duct tape and WD-40.  If it doesn't move and it...
For those that don't know, I remodeled my house from the ground up. I even built an addition onto the house. I've built walls,...
The oscillating tool is probably one of the most underrated tools on the market.  When I was remodeling my house, while it wasn't my...
Hilti is known for a lot of things, and innovation is definitely one of them.  Today we are going to talk about the Hilti...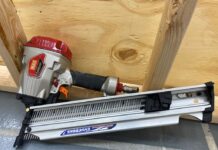 MAX has been a leading manufacturer of industrial power tools since 1942, and has specifically introduced innovative nailers since the 1980's. The MAX SuperFramer...
Monument might be a name you may not have heard of but they have been turning heads and making a splash in the grill...