Who doesn't like the outdoors?  If I didn't have a family, I would be one of those people who would be living outdoors.  Well,...
Want something that is unique and shows you actually took the time to look around for a unique gift?  This is the list for...
Our house, our domain, the place we spend most of our time.  When you buy a gift for someone's house, you can't go wrong. ...
We are a tool channel so it only makes sense to have a tool gift guide for this Christmas season.  We only have a...
Who isn't a food lover?  I have a solid 220 lbs. on me that says I am a huge food lover.  Below are some...
For me, family is the most important thing in this world.  However, as my kids get older, I get less and less time with...
So here is our list of gifts for boys, yes only boys.  As you notice we do not have a gift guide for girls. ...
I know we are not supposed to recommend pots and pans for women now a day.  I still don't get this and understand why...
This is our first gift guide of the series.  We will be releasing one every day until, well until we want.  We have gift...
If you are looking for a cordless, professional-grade, hand-held threader, you're in luck.  Recently, the RIDGID 760 FXP battery-powered Power Drive Threader came on...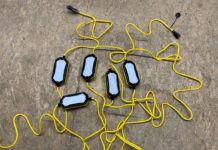 When it comes to electricity, Southwire is known in the industry as the premier electrical company.  They are not only known for having the...
Performance and efficiency can make or break productivity on a jobsite. The more you can get out of your tools the better. If you're...
When it comes to electrical and lighting solutions, Southwire has it down.  They offer a wide range of temporary lighting solutions for any job...
On the scale of DIY-to-professional, Bosch lands squarely on the professional side of tool manufacturing.  What this means for you: Bosch tools such as...
When it comes to cutting, Diablo is the king, well at least that's my opinion.  While I like all their cutting accessories like circular...