When you think of woodworking it might conjure up the memories of building birdhouses in the backyard, or messing around in shop class. For...
SKIL has been growing its line of Outdoor Power Equipment (OPE).  They have blowers, mowers, and more.  Today we are checking out one of...
Any day that we get to review a Hilti tool is a good day! If you don't know, Hilti is a premiere power tool...
We have a complaint letter to noisy neighbors: Noise is among the top complaints homeowners have against their neighbors, and noisy lawn equipment plays a...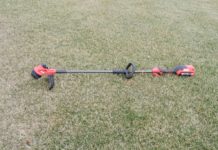 Summer is here, well all most.  When summer is here, I start thinking about Outdoor Power Equipment (OPE) tools.  It wasn't long ago that...
When it comes to drywall installation, a cut-out tool can be your best friend. And should shop wisely; the better the cut-out tool the...
When it comes to cordless Outdoor Power Equipment (OPE), EGO leads the pack.  They were the first company to offer a cordless lawnmower, a...
I am sitting here trying to decide where to start.  I have used and reviewed a ton of circular saws over the years.  I...
Coming soon for this 2023 lawn and garden season are three all-new RYOBI electric lawn mowers, including two riding lawn tractors and a 30...
Lighting has come a long way since I first started construction back in 1990.  Yes, I know I am dating myself but the point...
Before we get started, I just want to thank Milwaukee.  This is something I have wanted for years, and a hole that has been...
Harbor Freight just came out with three new Brushless HERCULES 20V power tools. The tools in this release are the Brushless HERCULES 20V Impact...
Southwire is one of my favorite companies.  While there is a lot to love about them, including they are a family-owned company right here...
Milwaukee Tool strives to be the best at what they do. And being the best at jobsite cleanup is no exception. Milwaukee has always...
As the construction world has shifted from corded to cordless power 18V and 20V batteries have reigned supreme. While these batteries pack a punch...