If you have been following us for a while, you know I have been working on my house.  One of my most used tools has been my nailers.  I can't think of one day I was working where I wasn't either using a framing nailer, finish nailer, brad nailer, or pin nailer.  During this time, I have found nailers that I have relied on because they are fast and reliable.  With that said, we are here today looking at the Milwaukee Brad Nailer Review to see if this can be my top nailer on the list of nailers.
Milwaukee Brad Nailer Review Overview
As I noted, I have my go-to nailers.  For framing, my new nailer is the Milwaukee Framing nailer.  For my finish nailer, it's my Dewalt and for a Brad nailer, it's my Porter-Cable.
One of the main projects I was performing for the house remodel was installing new molding around the house.  Some of the smaller pieces, I broke out my Bostitch Brad Nailer.  While I had to deal with a hose and an air compressor, I loved that it was fast and extremely reliable.  However as much as I love it, I still want to lose the compressor and hose.  So when a buddy told me he had the Milwaukee Brad nailer and he loved it, I figured it was time to give it a shot.
So for today, we are taking a look at the Milwaukee M18 Fuel 18 Gauge Brad Nailer, model 2746-21CT.  Milwaukee does offer a bare tool, but this is the kit that comes with a battery, charger, and a carrying bag.
Milwaukee Brad Nailer Review Features
The M18 cordless nailer is designed around a brushless motor that offers efficiency and longevity.  The Brad nailer uses a nitrogen air spring mechanism to perform the steady work of sinking nails with zero ramp up time.
No need for a compressor or air hose as the nailer runs off the Milwaukee 18V battery platform.  While you can use any Milwaukee M18 battery, the compact 2Ah battery works perfectly as it delivers a long run time but doesn't add a lot of weight to the nailer.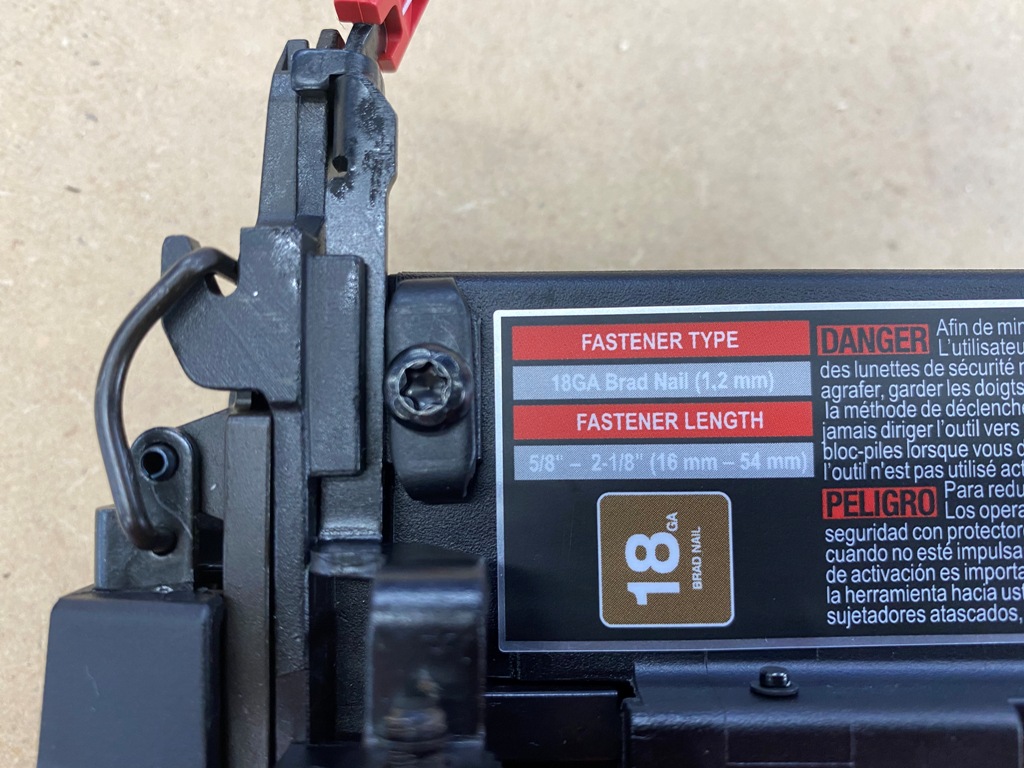 The nailer will work with any 18 gauge, straight nailer that is between 5/8″ to 2-1/8″ in length.
On the base of the tool, there is an on/off switch along with a mode button that allows the user to switch from bump to sequential.  One feature I love is being able to tell which mode the nailer is in by looking at the LED light.
To adjust the depth of the nail, there is a dial that is fairly smooth which will allow the user to raise or lower the depth of drive.
While I haven't experienced a jam, the tool is designed where a user can open the front of the tool without a tool and clear away any bent or jammed nails.
The nailer works with a no-mar tip and there is even a convenient storage area for extra no-mar tips.
As with other nailers, the magazine slides open by depressing a push-down lock.
If you have used Milwaukee tools before, you will be happy that they use the same over-mold rubber grip for the nailer.
Milwaukee Brad Nailer Review Performance
I have been using this around my house for some trim around windows, shelving, and more.  I installed blinds so I had to build out the window trim for the blinds and this nailer was solid.
Above is an example of the two depth variations where you can easily sink a nail below the wood or leave it raised.
I have used this mostly with pine trim but I have shot through some oak for corner beads and some oak I used to trim my stairs.  For pine, as you can see, it does a great job sinking nails consistently.  When I installed the oak trim, it was perfect for all 50 shots except two.  My guess is either it hit a nail in the subfloor below or a knot.  Out of 50 shots, only having to go back and sink two nails isn't bad.
Above we just had some fun to see how many and how fast we could shoot nails into a 2×4.  As you can see, it sank pretty much every nail and that was us just firing away as fast as we could, which the nailer didn't have any issues keeping up with us.
Milwaukee Brad Nailer Review Value
You can pick up the kit which is model number 2746-21CT for $400 at The Home Depot.  Yes, it's a little pricey when you just think about the cost.   For me, I think it's a great deal.  You lose the compressor and the air hose.  You get a solid brad nailer that is reliable and dependable.  Plus you are getting a battery platform that has a ton of tools you can expand into.  So when you look at all this, the price is extremely reasonable.
Milwaukee Brad Nailer Review Final Thoughts
The bottom line, this is one of the best brad nailers I have used.  I love the reliability of this nailer.  I love how each shot sinks the nail where I want.  I haven't had to go back many times with a nail set and sink nails. Overall, this is a great addition to the Milwaukee line.