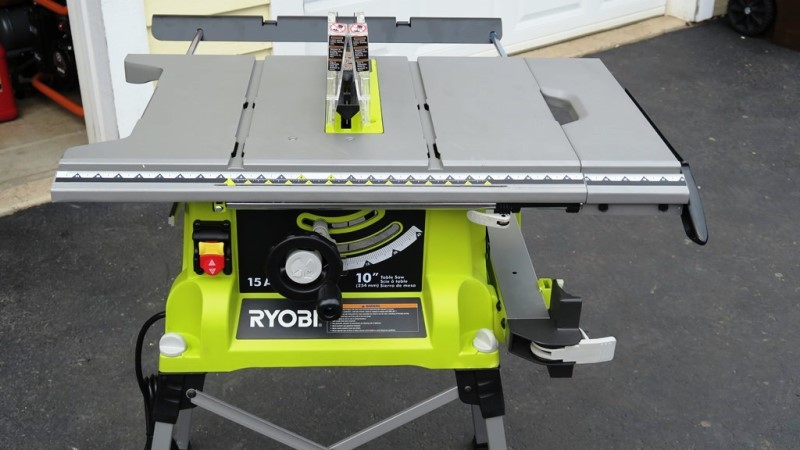 If you have ever been to The Home Depot, I am sure you have visited the tool aisle and seen the green colored tools. Ryobi tools are a huge part of the tool department at the store and for a very good reason.  Ryobi is designed for the homeowner.  While the tools are inexpensive, they pack a powerful punch.  Ryobi offers many of the same options you find with the professional tools, but for a fraction of the cost.  We have received a lot of emails about the Ryobi table saw, model RTS21G, so we figured we would get one and do a Ryobi Table Saw Review.  So here we go.
If you just sit back and look at one table saw from another you probably will only notice a price difference as most table saws look the same.  Well expect for colors.  While there is a justification for the expensive models, why would a homeowner need to pay twice as much for one when a homeowner might only use it 10 times a year?  Well, that is where Ryobi comes in.  Ryobi is made by a company called Techtronic Industries Co. Ltd.  This is the same company that makes Milwaukee tools, which are considered professional power tools.  While I am not sure how much information they share back and forth, I do know this company knows tools.  So when it comes to the Ryobi name and image, you can bet that Techtronic Industries Co. Ltd. is making the best homeowner tools for the money.  In regards to the table saw, this is packed with a bunch of goodies.
The first thing I want to touch base on, which I think is the most important is the fence.  I have seen a ton of saws out there where they design a great table saw, but a junky fence.  You need to have a good fence for two reasons, final output and safety.  What I look for in a fence, is a fence that once you lock it, it stays locked and stays in place.  It's important that the fence doesn't move at all.  You will usually see movement in the back of a fence, after the blade.  Not only will this produce a undesirable cut, but it can also cause a kickback and get you hurt.  The Ryobi fence seems to be quality.  When you lock the fence, it locks it in the front and back, making it secure.  I really don't see this moving around or causing any problems.  What's good with this fence is even if it does start to move, the user can adjust the tightness in it.  On the back of the fence, there is a screw that you can adjust to make the back locking mechanism lighter or looser.  So for me this is a huge win for the Ryobi table saw.  Now we can get onto the other items.
The saw is powered by a 15 amp motor that produces a no load speed of 5,000 rpm's.  As far as the rip capacity, you get 27″ to the right, thanks to the extension table.  To the left you get 12″.  If you need to install a dado blade, it will accept up to 1/2″, perfect for any woodworking project.  As with other tables saws, you get all the accessories such as a miter gauge, blade gauge and anti-kick back tool, plus a push stick which is stored conveniently on the side of the table.  However this comes with something that many saws don't, a stand.  Usually you have to buy a table saw stand separately.  Now don't expect a top of the line stand because it's not.  However the stand does a great job and it's very easy to separate the saw from the stand.  The stand will even store on the saw when not in use.  As a note, make sure you read the directions before you install the stand.  I thought I knew everything and just started fastening everything together.  Well I couldn't get the saw to attach to the stand.  Once I read the directions and did it the proper way, I didn't have any issues.  Here is some more good news, the saw comes with a 3 year warranty.
Overall I really like this table saw.  I felt like it would cut through pretty much anything I threw at it.  Our saw was square from the factory, so I didn't have to mess with anything.  As I said, while I like the stand, it could be a tad better.  The one thing you have to remember is this is a homeowner table saw.  So if you go from a pro saw to this, you might not dig this saw.  However if you are a weekend warrior during some cool projects, this is a great saw that won't break the bank.  The fence moves freely and locks down tight.
Ryobi Table Saw Review Specifications
Motor: 120V, 60 Hz, 15 Amps
Blade Diameter: 10″
Arbor Size: 5/8″
Depth of Cut at 90°: 3-1/4″ Depth of Cut at 45°: 2-1/2″
Rip Capacity: 27″ Right of Blade, 12″ Left of Blade
RPM: 5,000 (no-load speed)
Bottom line, if you're a homeowner, this is a great buy at $299.  Not only do you get the saw, but you get a pretty decent stand to go along with it.  With a 15 amp motor, you are pretty much getting the same powerful motor that the big boys offer, but again, at a fraction of the cost.  Yes, they are different motors, but the saw is for different uses.  A contractor will be using their saw almost daily, so it does need to be a little beefier.  The homeowner doesn't use it daily, so why add extra cost onto a saw that doesn't require it?  If you are looking at investing into a new table saw, the Ryobi is worth a look.  Hope you enjoyed our Ryobi Table Saw Review.