Flex has hit the market hard and has shaken things up.  If you are not familiar with Flex Power Tools, check out our article on the Flex Story and Who is Flex Power Tools. Today we are checking out the Flex Cordless Circular Saw and why other companies are taking notice.  Flex is changing the game and this saw is just one of the reasons why they are disrupting the power tool market.
Flex Cordless Circular Saw Overview
When it comes to a cordless circular saw you have two options, a 6-1/2″ and 7-1/4″.  Yes I know there are some smaller and bigger saws out there, but I'm talking about your main everyday saw; the saw you use to cut plywood, 2×4's, and other common construction materials.
The 6-1/2″ (which is my favorite) is great because it's lightweight and easy to use but the downside is the smaller blade means less cutting capacity.  While the 7-1/4″ will give you the extra cutting capacity, it also comes with more weight.
Features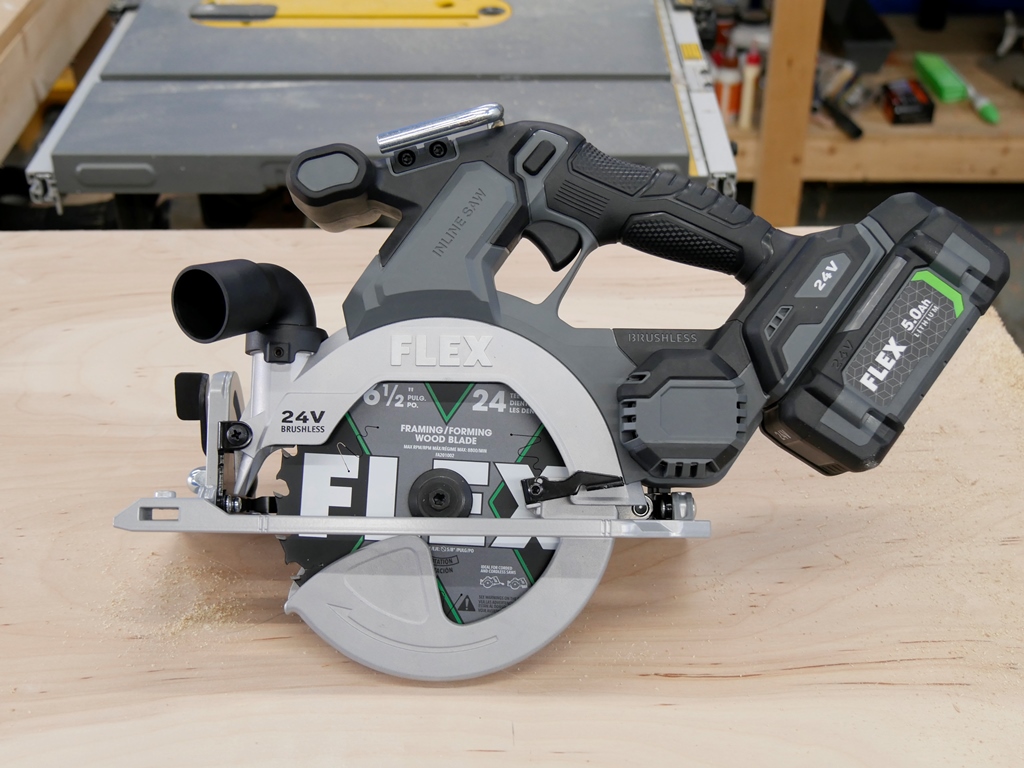 The Flex circular saw is built around a brushless motor and that means more runtime and a long-running motor. The saw has a 2-9/16″ depth of cut which means this saw can cut through some serious material in a single pass. The brushless motor has a no-load speed of 5,500 RPMs and a bevel capacity of 0-47°.
One of the most notable features of this saw is that the saw is powered by a 24V battery instead of an 18V battery.  So more runtime and more power.
Flex also has a feature that most other power tool manufacturers don't: protection for the battery.  Flex offers a Therma-Tech heat management system that helps keep the batteries cooler and protects the cells from overheating and getting damaged.
You can expect to make around 430 cuts into a 2×4 using a 5Ah battery.
The saw utilizes a 6-1/2″ blade.  Flex provides a 24 tooth wood framing blade.
So here is the magic of the saw.  The saw is an in-line circular saw.  So better balance and better line of sight.  All of this means better control and more accurate cuts.
The handle has a rubber over-molded grip which is comfortable.
One nice feature on the Flex cordless circular saw is the retractable hook.  So you can hook it on the horse or 2×4 instead of the ground.  Making it easier to access for the next cut.
If you want to have dust management with this saw, you can easily hook it up to a dust collection system to keep your area clean.
Performance
The Flex cordless circular saw easily cuts through plywood, 2×4's and other common construction materials.  The line of sight is great and it's easy to control the saw.
Even when we cut through multiple sheets of plywood, the saw never slowed or bogged down.
As you can see, you are able to cut through three sheets of 3/4″ plywood.  While it still will cut into the fourth sheet, it won't fully cut through.  But being able to cut through 3 sheets means production can go up.
Value
You can pick this saw up at your local Lowes or online for $249.  The saw includes a battery, charger, and carrying bag.  For me, $250 is a great deal to get the size saw I want along with a large capacity.  Considering the battery is a 24V, I am getting more runtime, more capacity, and better cut control, it's worth the investment of $250 and a good deal.
Final Thoughts
The bottom line, the Flex cordless circular saw is a great saw to own. I love the balance and line of sight. The company behind it is known for quality so I trust this saw to last.  If not, no worries, I have a 5-year warranty. For me, it's a great investment and for the price, it's hard not to spark your interest and give this saw a shot.