---
Part of growing up is listening to your parents and grandparents gripe about how expensive everything is now. They'll tell you how in their day, prices were reasonable, people were honest, and the world was a lot better off as a whole. Now, I've lived my life up to this point believing this view of yesteryear to be true, but as I started taking a fact based look at it, I discovered that at least part of that utopian recollection may be somewhat debatable.
What Once Was
Though it might be hard to believe today, for the 20th century in it's entirety Sears was a giant. For decades they were America's largest retailer and a component of the Dow Jones Industrial Average. In a day long before the internet, their catalog was often called the "Consumer's Bible" and at one time even included houses and automobiles. Introduced in 1927, Sear's Craftsman line of tools became arguably the most popular brand of tools in America and you were hard pressed to find a garage anywhere in America that didn't have at least some Craftsman tools in it. Sear's never manufactured their own tools. From the very beginning they were made under contract by some of the finer manufacturers of the time including Plomb, New Britain, Moore Drop Forge, Easco, and many others.
Craftsman was never a truly "professional" brand. They were always geared more toward the DIY crowd, but for most of their history their affordable price and great quality ensured they found their way into their fair share of pro boxes as well. They were truly an American icon and were by most accounts, the last affordable, American made, line of tools that a typical homeowner could justify the price of.
Craftsman In 1964
In 1964 Craftsman was in the "V" series era. Though using Moore Drop Forge as their primary OEM, tools of this period came from a host of manufacturers including Western Forge, Wilde, Kastar (Lang), J.H. Williams, Empire, Miller's Falls, and others. This period is widely considered to be one of the better era's of Craftsman production. Gary Lauver of Belton, TX knows more about vintage Craftsman than any guy I know. In addition to offering some of the information above, he had this to say as well:
"Here's what I can say about the Craftsman tools of the 1960's:
1) None have broken
2) None have worn out, though some, like screwdrivers, have been touched up on the grinder 
3) None have been warrantied
4) All have served me well over the last 6 decades
5) Some have been passed on to my son who continues to use them
6) Most still look good in spite of their hard use and age.
In short, they were value priced, well made, tools that have performed flawlessly over the long run. I have no regrets about any of these tools."

What more can you really ask of your tools?
So, What's This Article About?
This article examines the 1964 Craftsman Hand and Power Tool catalogs. It takes the prices, runs them through the Department Of Labor Inflation Calculator, and compares them to the prices of the same or similar items today. Yes, I know that the level of quality of today's Craftsman is much different than that of the V series, and that they were American made as opposed to being Chinese today, but I feel the Craftsman of yesterday still appeals to much of the same user base as it does today. The homeowner tool market looks very different than it did 50 years ago. Where once there were endless American made options, there are few that remain. We can debate the differences and contributing factors on the forums for weeks if that's what you want, but this article is just for fun.
Without further delay, lets take a look.
Hand Tools
Craftsman has always been popular for their tool sets. In 64 the biggest set in the catalog was the 195 piece set at a retail cost of $189.95. It included 1/4″, 3/8″, 1/2″, and 3/4″ drive  sizes, as well a nice assortment of wrenches and other essentials.
Today's sets aren't an exact comparison. Noticeably absent from the 64 sets are metric tools. Metric was around in 64, but for most, they weren't the everyday items they are today as it would be over a decade before "The Big 3" would begin using metric on automobiles extensively. Differences aside, I feel todays 255 piece set is fairly comparable. It doesn't feature 3/4″ drive, but it does have many more sockets and not much fluff (insert bits, etc.).
Today's 255 piece set is currently online for $254.99. With minimum wage currently at $7.25, a customer earning minimum wage could purchase this set in 35 hours worked. In 1964 minimum wage was $1.15, meaning a customer earning minimum wage would need to work just over 165 hours to purchase the set. Adjusted for inflation, the 195 piece set in 64 was $1,452.64 in 2014 dollars. That's a pretty staggering difference. Even if you were to add a 16 piece 3/4″ drive set for $169.99 for a total of 271 pieces, you're still only into the set $424.98. In other words, the larger set today is just over $1000 less to purchase.
For a smaller scale perspective, let's take a look at a small combination wrench set. In 64 the basic set was 6 pieces (7/16″ – 3/4″) at a cost of $6.29. There was also a 10 piece set (3/8″ – 1″) listed for $11.49
In 2014, the smallest set I could find was a 9 piece set (1/4″ – 3/4″) retailing for $15.99.
Adjusted for inflation, the 6 piece set from 64 equates to $48.10, while the 10 piece set comes in at $87.87. Again, the difference is eye opening.
Power Tools 
For power tools, I didn't feel drills were really a good comparison, so the first tool we'll look at is a circular saw. The top model in 64 was a 7-1/2″ Industrial model priced at $59.99.
Today, Craftsman's top circ saw is the Craftsman Professional model # 27311 which while often on sale for $78.99, normally retails for $129.99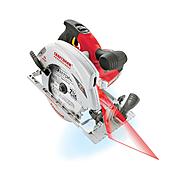 Adjusted for inflation, the top shelf circ saw in 1964 would set you back an almost unbelievable $458.77! Even the lesser model in 64 retailed for $39.99, which translates to $305.82 in todays money. Now you know why your grandpa had all those hand saws hanging in his shop.
How about a table saw? In 64 the top "portable" 10″ model was listed at $129.99.
There was a catch though. For that price you didn't get the motor ($24.96 extra), a stand ($29.99 extra), or the table extension ($17.99 extra). There was also an 8″ model that went for $62.99 without the motor, stand, or extension.
Todays top Craftsman portable 10″ saw is the Professional model # 21829 listed at $599.99
Adjusted for inflation, the comparable 10″ saw in 1964 (with the motor, stand, and extension) would set you back $1597.79 ($208.93 in 1964 dollars). The motor alone equates to $190.88, the stand to $229.35, and the extension to $137.58. The same set up in the 8″ saw works out to $111.47, a mere $852.47 in 2014 dollars compared to $199 for a similar set up today.
Another item that blew me away was a 29 piece HSS drill bit set. It was listed in 64 at $27.99 which translates to $214.05 in todays money. That's roughly twice the cost of a premium HSS set today from Norseman or the like.
Conclusions
So what does all this mean? Look, I'm no economist. I'm not about to sit here and pretend to have any educated answer as to why these calculations work out the way they do, but one reasonable conclusion is that tools are more affordable now than they've ever been. Even if you do the calculations with the higher quality brands of today like Proto and SK, that more accurately represent the level of quality and COO of the early 60″s Craftsman, the results hold true. For shiggles, I ran some numbers from the 1953 catalog and the margin was actually a little higher, meaning that even in some of the best economic times of the 20th century, tools were a lot more expensive than they are today. I remember my dad and grandpa talking about what a special occasion it was to buy things like tool sets, appliances, furniture, and many of the other items we take for granted today. People saved for months, even years, to make purchases like these, and when they did, it was something you might invite friends and family over to see.
Just for fun, find some old ads or catalogs and run the numbers though the Inflation Calculator to see for yourself. It's kinda fun. Other calculations from 1964 to 2014 work out interesting as well. We see some items have became more affordable, while others more expensive:
                                          1964________2014 Adjustment__________________________
Minimum Wage                $ 1.15                       $ 8.79
Gallon of Gas                    $ .30                         $2.29
Avg. New Home           $ 20,500.00              $ 156,773.42
1st Class Stamp                $ .05                         $ .38
Gallon of Milk                     $ .95                        $ 7.27
New Corvette                   $ 4,300                   $ 32,884.18
Feel free to comment and let us know what you think about this article. Until next time, thanks for reading.