What do you think of when you think of smokers?  For me, two names come to mind, Pit Boss and Traeger.  I own the Traeger and love it.  I love not only the taste of the food, but I love cooking with a smoker.  You get the smell and it's a fun long process.  Well, today I am going to talk about another name, a name I never knew about and that is Z Grills.  So let's take a look at the Z Grills review and see what this is all about.
Z Grills Review – Overview
So here is my story behind this Z Grills review.  I had a friend reach out to me to tell me about this smoker.  I have never heard of Z Grills, so I thought it was just some knock-off company trying to put a smoker out there so I didn't give it much thought.  The two smokers I know are Traeger and Pit Boss.  Sure there are others but I look at it like grills.  You have a couple of really good players, then there is everyone else, which is how I looked at Z Grills, just another company.
However, there was something about Z Grills that caught my attention, which to this day, I'm not sure exactly what it was.  But here we are, taking a look at the Z Grill 700D4E.
So is this smoker just another name or is it a top dog and has the potential to take out the mainstream smokers?  Before we jump in, I want to get you familiar with some of the features of this smoker.  Because if you are like me, you want to know all the in's and out's so you can make a better decision on your purchase.
Z Grills Review – Features
Taking a look at the outside I notice two things.  First, it looks like another smoker I have seen before.  Yes, it reminds me of the Traeger, which I own and love.  Second, I have to say this smoker looks beautiful with the chrome color top and jet black body.
The smoker is 51″ tall by 48″ wide.  With this smoker, you can grill, sear, bake, barbecue, smoke, braise, roast, or char-grill.
The temperature range is from 180° to 450°.
Here is what really surprised me (one of many things).  I was surprised by how solid the steel is.  It's not some cheesy thin metal smoker.  The metal body is thick and strong and built like a premium smoker.  So when I saw this, I was very surprised and very impressed.
The hopper is located on the side of the unit.  There is an automatic auger that moves the wood pellets from the hopper into the fire pit located in the smoker.
On the side of the hopper, there is a door in case you want to switch out flavors.
Z-Grill does have their own pellets that they recommend using with this smoker.  My guess is someone makes these pellets and all these companies rebrand them with their name.  So when it comes down to it, I am sure you can use any premium wood pellet.  I would stay away from no-name pellets as they can use different bonding agents which does mess with the flavor.
On the bottom of the hopper is where you can turn the machine on/off, set the temperature, use the probe and monitor the status of the meat and smoker.  They did a very nice job with a large screen that is easy to read, even in sunlight.
Below the barrel, there is a closed cabinet where you can store different items such as cooking tools, pellets, or anything that you fancy.
Again, talking about the quality of this unit, they didn't cut any corners.  On the bottom and the top, there are two strong magnets to help keep the doors closed.  So instead of trying to save a buck and only have one magnet, they decided to go with a quality door system to ensure they will always stay shut when you want them shut.
The unit sits on 4 casters, two of them are locking.  So if you need to move this around, you can easily move it.
On the side of the smoker, there is a grease bucket to catch grease or anything else that drips from the inside of the unit.
Just above the grease bucket, lays the smokestack which again is made of thick steel to ensure longevity and quality.
On the front of the smoker, Z Grills designed it with a large handle for easy opening and closing.  What's even better, they made the hinges beefy so you don't have to worry about them breaking down the road.  The hinges should last a lifetime.
Opening up the unit you can see the fire pit, which reminds me of the Traeger.  Again, it's thick and well made so no issues on this lasting a long time also.
The heat shield was another item that surprised me.  I own the Traeger and love it.  However, the heat shield on my Traeger is thin metal.  The heat shield on the Z Grill is thick and reinforced which means this should last a long time.
Now for cooking purposes, I am not sure if the thick or thin metal is better.  I would have to think the thick metal is better, which the Z Grills offer.  Since metal holds heat, I would think the thick metal would hold heat and make a more consistent cooking temperature, but that is just my guess.
As with the Traeger, this also has a grease drain pan that is tilted and lets the grease slide out to the grease bucket.
One thing I learned is to cover both the grease drain pan and the bucket to protect them.  For the grease bucket, you can buy disposable liners.  Most importantly, it seems like it protects the bucket from rusting.
I cover up the grease pan because it is easier to clean.
As with the Traeger, this has non-stick grates.  One on the bottom and one on top towards the back.
There is more than enough room and a total of 697 sq. in. of cooking area, which means 29 burgers, 6 racks of ribs, or 5 chicken.
Here is something that separates this from the Traeger, this comes with two probes which are awesome.  My Traeger only has one and then I always have to use an external one when I am cooking more than one item.  Best of all, you can use these both at the same time.
While this unit doesn't come with a front shelf, you can buy this as an accessory.  I highly recommend getting this shelf as it helps with prepping and when taking something off the smoker.  You can fold it down if you don't need it.
Yet another item that surprised me, the cover.  Most covers are junk.  They are thin and cheap.  The Z Grill cover is thick and the perfect size.  The cover isn't too tight so it's not hard covering up.  However, it's not too loose where it will blow away.  If you are concerned about it blowing away, there are grommet holes to tie or bungee it down.
Z Grills Review – Performance
So let's talk performance.  Before I get into the nuts and bolts of what I like and don't like, I would like to go over the operation.
First, this smoker can't be any simpler to use.  Starting it up, setting the temperature, and turning it off is extremely easy.
Second, we cooked when it was 13°, 30°, and 54°, so on the colder side.  The smoker had no issues with keeping consistent heat throughout the whole cooking process.  So even if you are in a cold place and wondering how this will do during winter, let me put that to rest as it works like a champ.
One of my favorite features of this smoker is the hopper.  Most pellets come in a 20 lb. bag.  With my Traeger, the hopper only holds about 15 lbs. so I always have pellets leftover.  So then I have to store them in a 5-gallon bucket.
The ZGrill has a 20 lb. hopper so the whole bag fits into the hopper.  I love it, common sense.  Let's make a hopper the same size as the bags so people don't have to mess around.  Thank you, Z Grill.
My Traeger sits on 4 legs so I can not store anything below.  I have to find a place to store my tools and other cooking items.  The Z Grill has a cabinet which makes sense.  If you have space below, why not use it.  I love having a cabinet.  Again it makes all the sense in the world.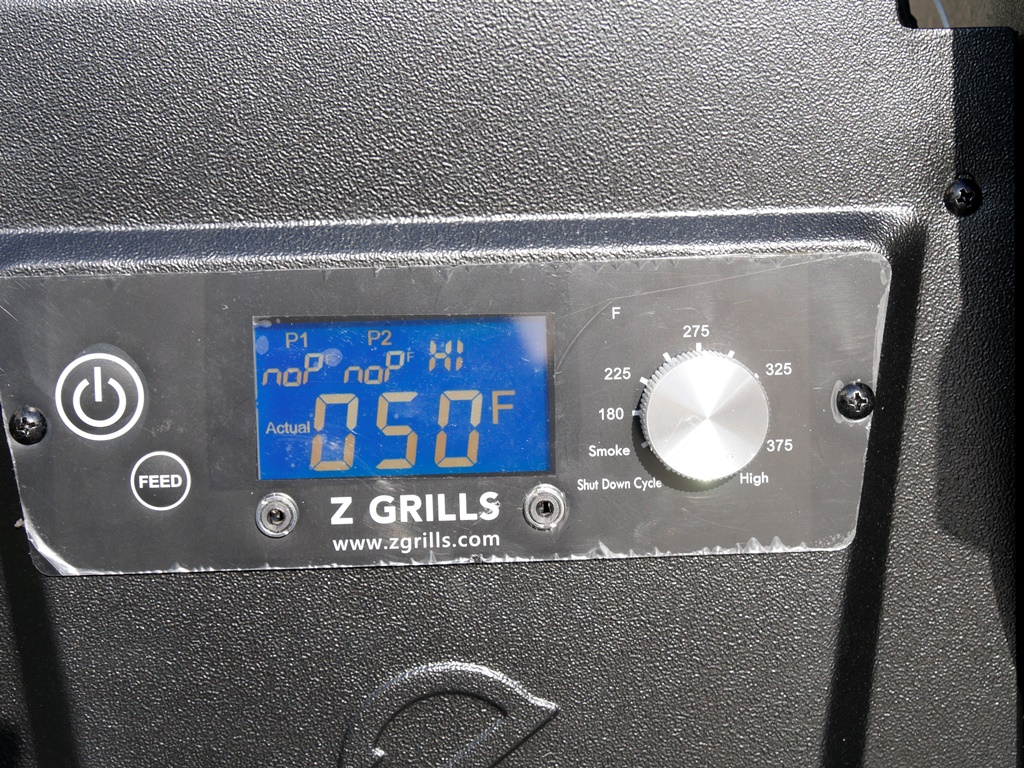 This is a mixed bag compared to the Traeger.  Personally, I like the knob to adjust the temperature better than the Traeger electronic temperature setting.  I can easily set the temperature and walk away.  With the Traeger, you have to sit there and push up or down the temperature.  Not a huge thing but I do like it better with the knob.
I think where Trager has an advantage is at start-up.  With the Traeger, I set the temperature and walk away.  With the Z Grill, you have to set it to smoke first.  Once it starts smoking and there is a fire in the fire pit, then you can set your temperature.  So there is a little more to start up.  Not a huge deal breaker but something to note.
If you have to move your smoker around, I think the advantage goes to Traeger.  Most people are going to put their smoker in a place and leave it.  For me, I have it in my driveway so I have to move it when the kids want to play basketball or move it for other reasons.  While the Z Grill casters are nice, the Traeger has two larger wheels and I think their casters are smoother.  Not that the Z Grill is bad because it still rolls and moves easily but I like the Traeger setup a little better for move-ability.
As I talked about above, I like the thicker heat shield.  To me, it screams quality and I do believe you get better heat with the thicker heat shield as it probably holds and dissipates heat better.  But again, that is just my thought, and not sure if that is accurate.
Want to cook two pieces of meat or need to monitor two different temperatures?  The Z Grill allows you to do just that.  The Traeger only has one sensor while the Z Grill has two sensors that plug directly into the control panel in the front.  Again, it's the little extras that make the difference.
This was a small brisket we cooked.  You can season it any way you want but in the end, the smoker did a great job with smoke flavor, ease of cooking, keeping a consistent temperature, an easy-to-read screen, and just a pleasure to use.
Z Grills Review – Value
The smoker retails for about $799 but I see it on sale for about $640 at various times of the year.  For me, with the $799 price tag, it's a great buy, and think it's worth the money.  Yes, it's a big expense but if you want a high-quality smoker, you get a lot of bang for your money and it's worth every penny.  If you get it on sale for $640, well, it's a no-brainer. Check out ZGrill
Z Grills Review – Traeger or Z Grill
So the question is do I recommend the Traeger or is the Z Grill the real deal and a great alternative to the Traeger?
Before I answer this question I kept talking about how the Z Grill looks like the Traeger.  Well, it turns out, they have more in common than you think.  Actually, one does or use to make smokers for the other one, want to guess?  Yes, Z Grills makes the Traeger, or at least use to.  So when you get the Z Grill, you are pretty much getting a Traeger quality smoker
If you have been following us, you know I love the Traeger.  I use it all the time and it's been very reliable.  So for me, it has always been hard to knock off the Traeger.
If I compare them side by side, which they are different models and not comparing apples to apples ( Traeger Pro780 and Z Grill 700D).  The Traeger has WIFI capabilities and is better if you have to move it around.  However, the Z Grills has a better price and many better features that the more expensive Trager does not.  So if I had to pick between these two grills, I would have to go with the Z Grill, even without the WIFI capability.  Both systems are high quality and easy to use but I like the features on the Z Grill better.
When I compare like models to each other, I think the Z Grill has the upper hand as both are high quality and great smokers.  But it seems like the Z Grill usually has a better price.
Z Grills Review – Wrap Up
Bottom line, I thought I would never talk about any other smoker than the Traeger.  While I love the Traeger and use it all the time, the Z Grill is a viable option and one not to be overlooked.  The Z Grill has better price tags and offers a lot more than the Traeger.
While I thought Z Grill was just a generic smoker, it is anything but.  I was completely wrong and this smoker was head and shoulders above what I expected.  The Z Grill is high quality, easy to use, and works like a champ.  If you are looking for a smoker, you have to look at the ZPG-700D3 / ZPG-700D4E.
While they offer a wide variety of models, they do have two new models they just introduced.