I remember when I bought my first router, which was a Porter Cable router, it was one of my favorite tools.  Then I wanted a router table but there wasn't a lot to pick from and they were expensive.  So I turned my table saw into a router table.  I extended my table saw top and when I did that, there was a gap.  So I built a wood insert that I could take out when not needed.  When I used it, I could use the table saw fence which worked well.  As time has passed, router tables have become more abundant and not as expensive, which brings me to our topic today, the SKIL Router Table.
SKIL Router Table Overview
SKIL does have another router table in the marketplace, but they recently introduced a new router table, model SRT1039 which is what we are talking about today.  So don't confuse this with their older model, RAS900.
This new model has a couple of new twists to make this not only different than their older model but it's also different from their competition.
SKIL Router Table Features
The SKIL router table is 18″ tall and features an above-the-table router lift.  This gives you easy access to router bits with the above table adjustment.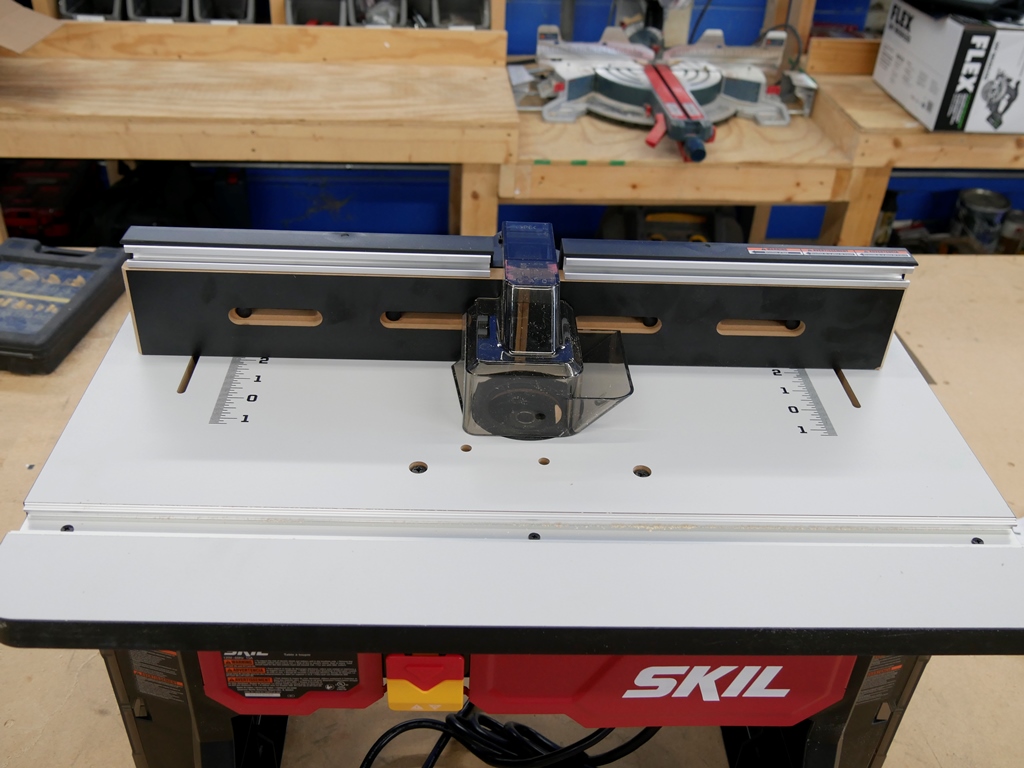 The top of the router measures 26″x16″ and is MDF, which makes 416 sq in or work surface.
The tabletop has easy-to-read markings on both sides so you can make sure your fence is straight.
As you know, routers make a mess.  The fence has a great integrated cover to help minimize wood shavings from flying around.  If you own a dust collection system, you can even attach that to help eliminate a majority of the mess.
One of the best features of this table is the wide base which steadies it.  You can even anchor the router table to your workbench by using clamps or fasteners.
On each side of the router table, the legs open up and you can store bits and other items inside.  The router table also comes with two removable trays which can be opened on both sides.
On the front, there is an integrated on/off switch so you don't have to fumble underneath to turn the router on/off.  The table features two plugs so you can turn on the router and dust collector with one switch on the front.
Another great feature is the aluminum plate.  You are able to mount almost any router and quickly mount or remove it from the table.
The table comes with a bunch of accessories like a miter gauge, rings, and feather boards.
SKIL Router Table Performance
Two items I noticed right from the start; the first is how stable the table is.  When working on this table, it isn't wobbling or sliding around.
The second and my favorite is how smooth the tabletop is.  I can easily slide my work around and have complete control.
While I like the fence, I am not a huge fan of how the fence is anchored in place.  This isn't a SKIL thing, actually, all router tables use this system.  I just wish something would come around that has a rack & pinion system or something other than using bolts to secure the fence.  Again, it's nothing against this specific table as they all work this way.
I have been using the Bosch for a long time, which you can see above.  While I like the router table, I am not a huge fan of the two pieces.  For me, the SKIL is much smoother than the more expensive Bosch.  The Bosch has a little dip between the metal plate and the MDF top.  No matter what I do, I can not get the two to stay matched up so they are the same height.  I can't tell you how many times this difference between the two heights has wreaked havoc on my work.
SKIL Router Table Value
The router table will retail for $159 on Amazon.  Overall this is a decent value.  The table is sturdy, easy to use, the top is smooth, and the storage is a nice added touch.
Final Word
When it comes to router tables, the SKIL router table is a great option.  The table is stable and the top is smooth so it's easy to work with.  The fact you can store bits on the side and easily detach a router makes this a desirable router table.  For $159, it's a hard table to beat.