I can't think of any other homeowner power tool brand that can compete with Ryobi.  Ryobi is a homeowner brand sold at The Home Depot and their line of tools even competes with some of the professional brands.  One thing that sets Ryobi apart from other homeowner brands is they offer professional features at a homeowner's budget.  So let's take a look at the Ryobi Cordless Miter Saw Review.
Ryobi Cordless Miter Saw Review Overview
Over the years the tool market has come a long way.  Its technology has made huge advancements, and the gap between professional and homeowner power tool lines is much smaller.  In the past, you would see a lot of tool options only available in the professional lines.  Nowadays, that is not the case; take a cordless miter saw.  With this Ryobi, the nonprofessional has the opportunity to own a cordless miter saw, an option that was previously only available in professional tool lines like Milwaukee, Makita, Dewalt. This is great because it makes the work of us DIY'ers a lot easier.  No more dragging around power cords.
Features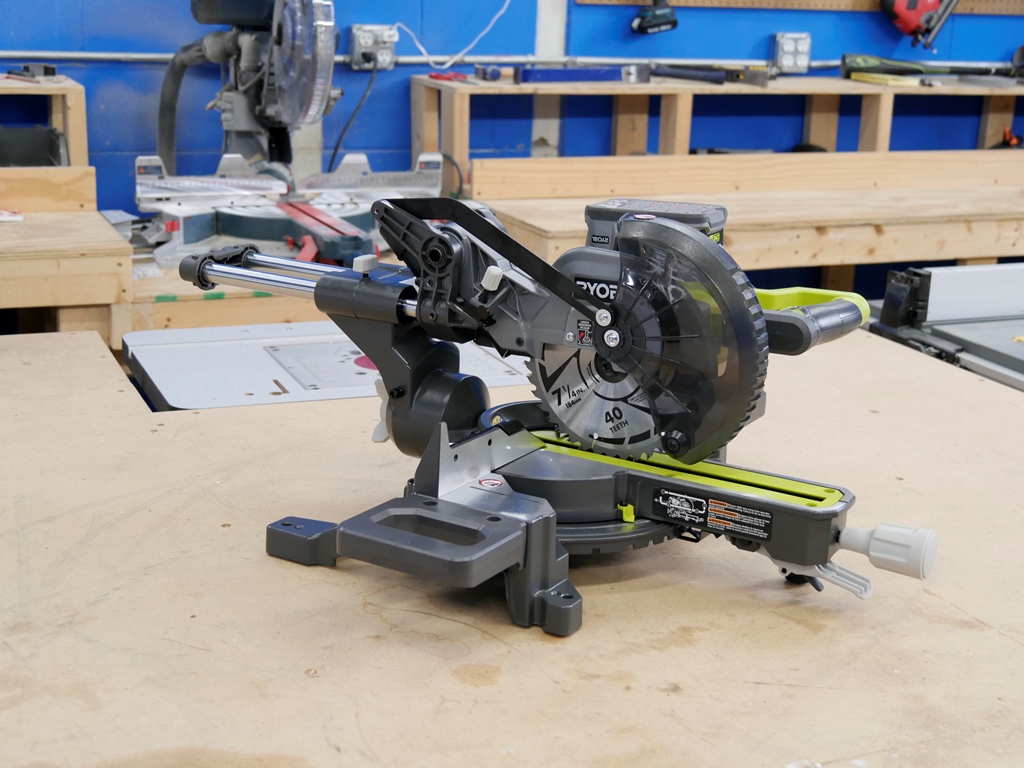 The Ryobi Compound Sliding Miter Saw delivers 3,600 RPM with the ability to cut up to a 2×10. The saw weighs about 25 lbs so it's a great option for a portable saw with a large cutting capacity.
One extremely handy safety feature is the built-in electric brake.
The saw is powered by an 18V Ryobi One+ battery.  The battery sits on top of the saw and can power the saw through 800 cuts per charge using a 9Ah battery.
While the saw does come with a 7-1/4″ 40 tooth blade, I would suggest buying a Diablo blade and using that blade for optimal results.  Not that the included blade is bad, I am just a huge fan of Diablo.
The table is a decent size, yes I have seen bigger and smaller tables so for me, it's not a bad size for a 7-1/4″ miter saw.  Also as you can see, the saw does have carrying handles on each side of the saw.
The saw is designed with a D-handle grip.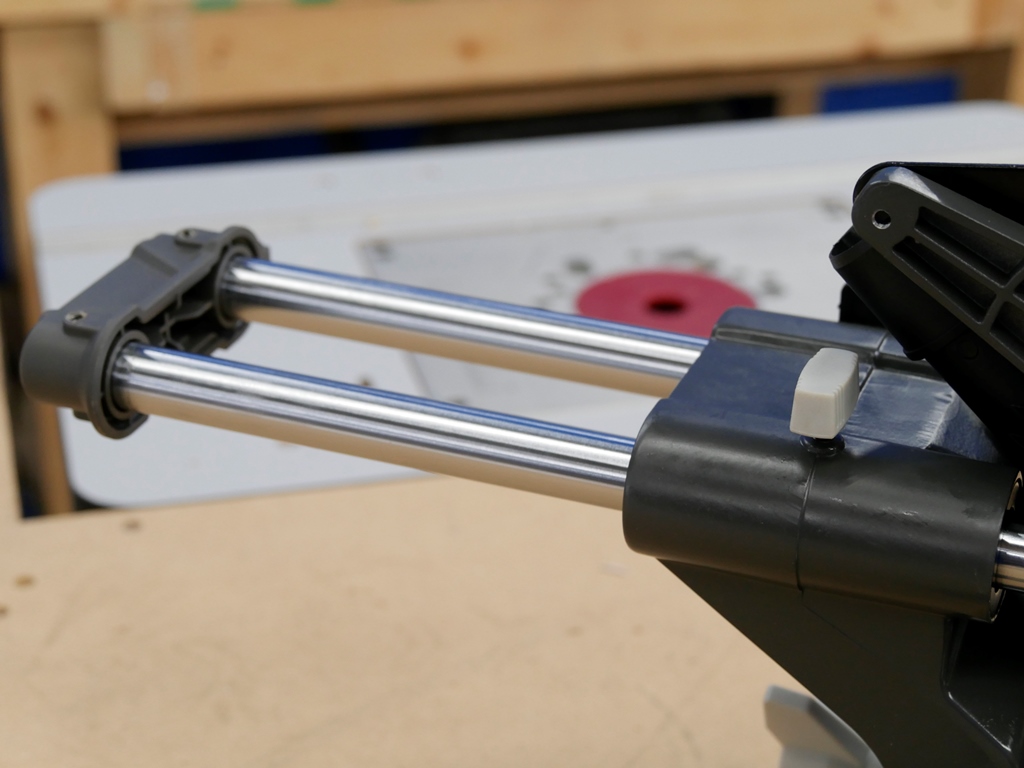 On the back of the saw, you can see that the saw slides along two stainless steel rails for durability and smoothness.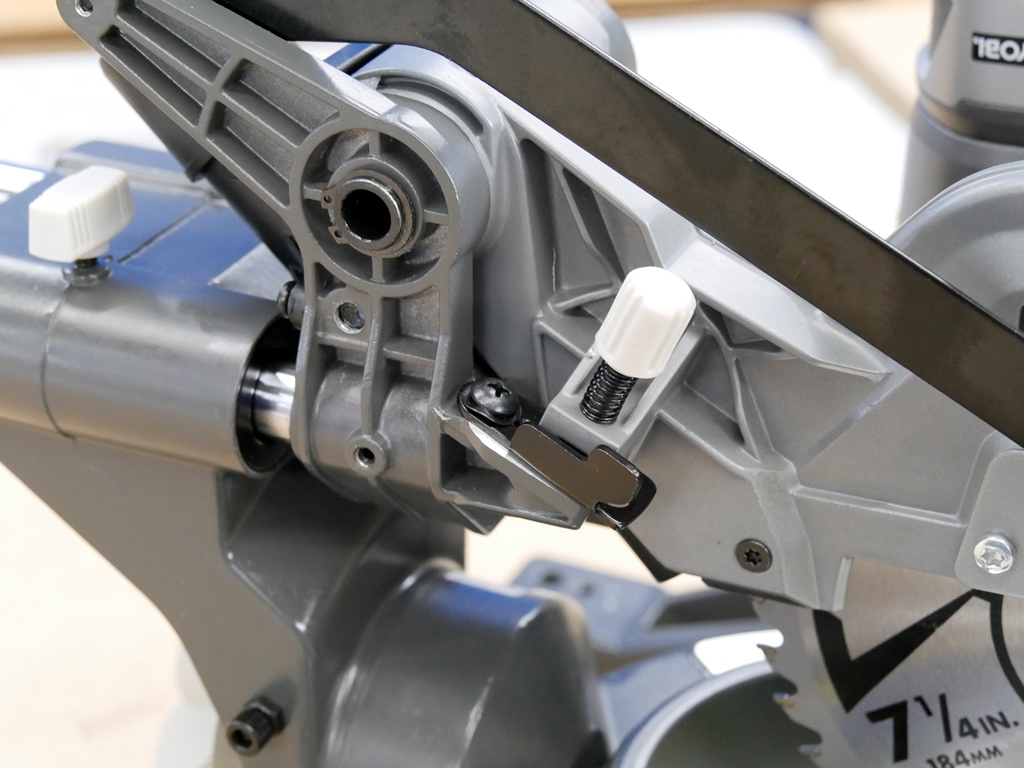 As with all other saws, this also has the ability to trench cut or adjust the depth of cut.
On the back, you can adjust the bevel cuts from 0° – 45° left.
The saw features 10 Miter detents which a user can control on the front.  The miter stops are 0°, 15°, 22.5°, 31.6°, and 45° left and right for quick cut settings.
The max miter is 47° for left and right.
Besides the blade, the saw comes with a clamp and dust bag for the 1-1/4 in. dust port.
Performance
The saw has a capacity of 2×10 at 90° and 2×6 at 45° which is nice for a 7-1/4″ saw.  For me, this is a great saw for trim, flooring, and framing with 2×4's.
Included as part of this Ryobi Cordless Miter Saw Review, we found the saw easily cuts through a 2×4 and that is with the stock blade.  If you upgrade and to a Diablo blade, it's only going to be smoother.
Here we show you that you can not cut a 2×4 when sitting on its side.  Not a big deal because no 7-1/4″ can, but just so you are aware.
With the dust bag on and a single pass through a 2×4, there was dust leftover.  While I have seen better dust management, it's not the worst we have seen.  This is typical and the best way to fight this is using some type of dust vacuum system.
Overall, for performance, I like the portability, the size, and the power.  As noted earlier, this saw will excel at certain projects and jobs for the homeowner.
I do have a couple of complaints to include in our Ryobi Cordless Miter Saw Review.  First is I am not a huge fan of the safety switch.  Instead of just grabbing the trigger and automatically depressing the safety switch, you actually have to grab the trigger and then move your index finger over to depress the safety switch.  Is this a big deal?  For me it was, but after a couple of uses, you just get used to it, and it's not too bad, but something worth mentioning.
My next gripe is I know it has handles on the side that will allow you to pick it up with two hands to carry it flat or you can grab it with a single handle and carry it upright.  However, it would have been nice to have a carrying handle on top of the saw.  Maybe it's just because I'm used to carrying a saw from the top so again, not a huge issue.
The last item was the table and miter set up.  Our unit was a little tight moving it to different miter degrees, it's wasn't as smooth as I would expect.  Yes, I know it's a homeowner tool but since you use the miter a ton on this type of saw, a smoother miter would have been nice.
Value
You can pick this up at Home Depot for about $200 for the bare tool.  When comparing it to a professional miter saw, this is about half the price.  So for me, this is a great value for the homeowner.  Why spend a couple of hundred dollars more for a professional saw when it will be sitting around most of the time.  And in regards to power, this saw doesn't lack power compared to professional models.
Wrap Up
Based on my Ryobi Cordless Miter Saw review, if you are a homeowner looking for a great portable saw for small jobs around the house, this is a great buy, especially for the price.  If you already own Ryobi 18V batteries, this is a great addition to your collection for $200.  If you are a professional looking to save a couple of bucks and need a saw, my recommendation is to go with a Milwaukee or Dewalt cordless saw, especially if you are using it on a weekly basis.