Best in class speed, lightweight, compact, versatile, great features … what more could you want from any tool? This Metabo HPT Cordless Reciprocating Saw has it all. Here we take a look at this recent addition to the Metabo HPT line of subcompact cordless 18V/36V power tools.
Metabo HPT Cordless Reciprocating Saw Overview
Name – Metabo HPT Cordless One-Handed Reciprocating Saw
Model – CR18DAQ4
Price – $116
Where to Buy – Amazon
Reviews – Metabo HPT Review
Metabo HPT Cordless Reciprocating Saw Features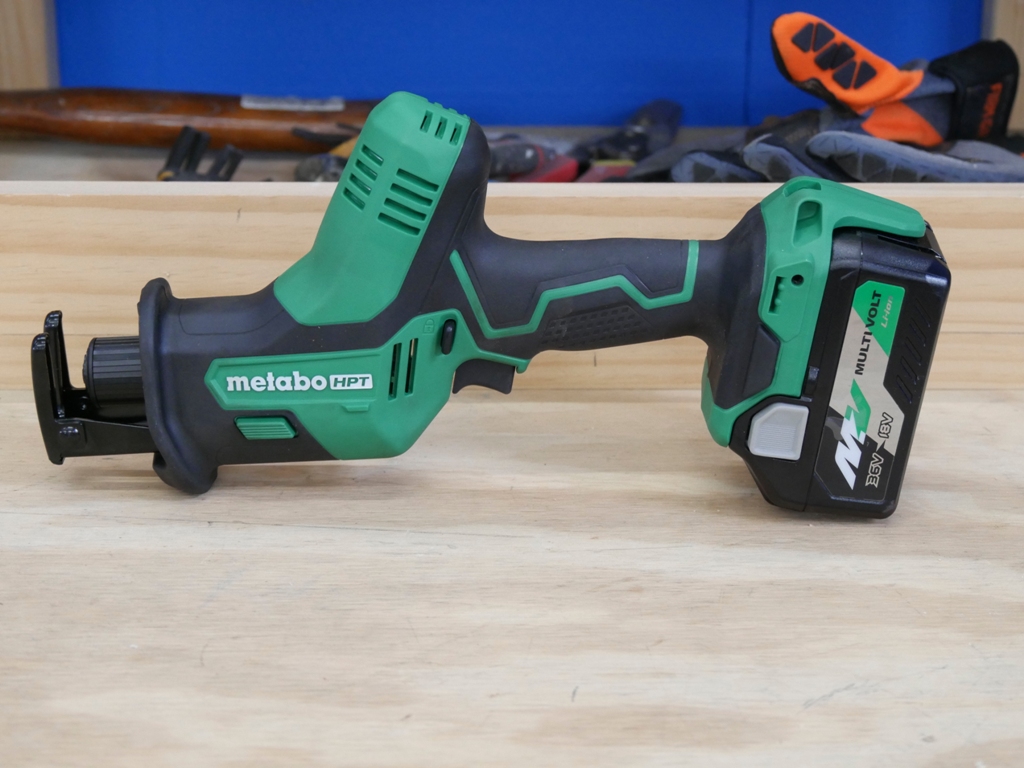 Whether it's up on a ladder, in a tight dark spot, or trimming your bushes; at only 13.8″ long and 2.9 lbs. (bare tool), this LED-lit saw easily goes where you need it. And at 3,200 strokes per minute (SPM) it can get the job done.
This tool is compatible with Metabo HPT 18V and 36V batteries. I thought the saw had a well-balanced feel with both battery sizes.
I noticed less hand-wrist-arm fatigue due to its light weight, ergonomic grip, and variable speed for lower vibration.
Only one finger fits on the variable speed trigger of this one-handed saw.
The new tool-less metal locking chuck accepts both traditional reciprocating saw blades and t-shank jigsaw blades.
Unlike some one-handed reciprocating saws, the shoe is adjustable. And like changing blades on this saw, it is a tool-less process.
Metabo HPT Cordless Reciprocating Saw Our Thoughts
For me, I am a huge fan of Metabo HPT and don't need to be sold on the line.  The tools I have used in the past such as the router and nailer have been well above my expectations.
This saw isn't any different.  The saw is comfortable, easy to use, and does the job.  While the saw is comfortable, my two favorite features are that it accepts t-shank jigsaw blades and I love how the shoe is adjustable. This not only means that I have more versatility with this saw but with the adjustable shoe, I will get more out of my recip blades.
Metabo HPT Cordless Reciprocating Saw Wrap Up
A one-handed reciprocating saw is a must for any tool arsenal.  If you are working in tight spaces or overhead, this type of saw comes in handy time after time.  Metabo HPT reciprocating saw is a great addition to their ever-expanding line of 18V/36V tools.  With the ability to also accept t-shank jigsaw blades, it's a no-brainer.