Anyone from an electrician to a plumber to a carpenter can always be more efficient when cutting metal.  While there are a variety of power tools available for this task, the band saw is one of the best tools for this task.  What makes a band saw even better, being cordless.  So let's take a look at the Makita Cordless Band Saw Review.
Makita Cordless Band Saw Review Overview
Makita is known for their large line of power tools on the 18V battery platform.  They have anything from a drill to a vacuum to a mower. When it comes to the job site, Makita has a tool for every tradesman and all most any task.
Makita has a couple of band saws on the market.  However, if you are looking for a compact cordless band saw, this is the tool for you.
Makita Cordless Band Saw Review Features
The Makita Band Saw (XBP03Z) is built with a high torque motor that delivers 630 ft./min blade speed.
The saw is powered by a single 18V Makita battery.
As with other band saw, this has a front handle to help with stability and accurate cuts. However, this is light enough to use with a single hand.
The rear handle mimics the handle found on their circular saw which has an overmold comfortable grip.
To access the blade, there are two tabs to open the cover.  While they seem protected, this might be a week point if they get banged or if the tool drops.  We haven't heard anything but just a point to note.
The band saw features a 2-1/2″ cutting capacity.
As with other band saws we have tested, the rollers are stainless steel so they won't rust.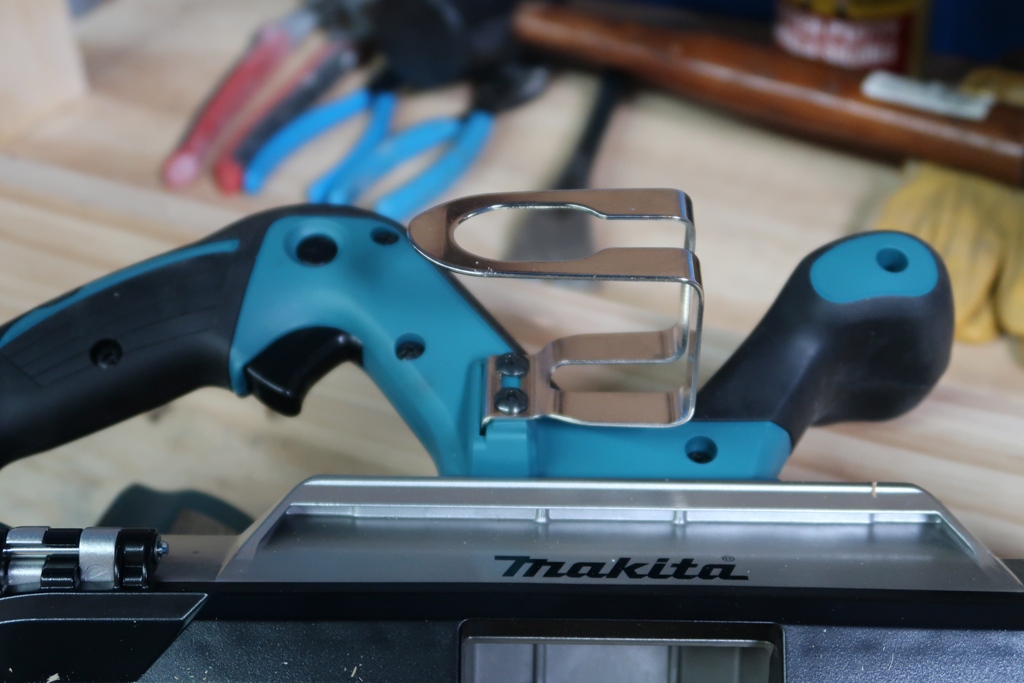 The tool also features a belt, pipe/wood clip.
Makita Cordless Band Saw Review Performance
When it comes to performance, we ran this through a variety of different materials.  We took it over to Randy's and the mechanics next door.  We wanted to get their opinion and see how it matched with ours.
The saw is designed to cut conduit, Unistrut, copper pipe, threaded rod and more.
Overall the consensus from everyone was the saw was fast, powerful, smooth and very easy to work with. For me, I also love the size.  Cutting pipe above, in front or below will be very easy with this saw as it doesn't feel like your trying to hold a ton of bricks over your head.
Makita Cordless Band Saw Review Value
The XBP03Z retails for about $250 on Amazon for the bare tool.  While it's a fair price, it's still a large investment if you need a battery and charger.  I would really like to see this around $250 with a battery and charger.
Makita Cordless Band Saw Review Final Thoughts
Overall this is a great cordless saw.  I love the speed, the power and the weight making it easy to cut above your head or out in front of you.  This is great for a plumber or electrician who's cutting a ton of pipe every day as this will save time and money.  If you are looking for a compact band saw that also offers plenty of tools to grow into, the Makita XBP03Z is a great choice.