If you've ever been involved in any type of racing, you know that a big part of winning is done in the pits and ATV racing is no exception. In the pits as on the track, it's all about speed. Some races you might have 2 hours between moto's, others you might have 15 or 20 minutes, but in either event, you can't afford to be wrenching on your quad when you should be on the line. As I started gathering tools and equipment for our team, I tried to be on the lookout for anything that made servicing our quads faster, one such tool was the Mac BRS038 12V ratchet.
Efficiency is extremely important, but trailering a compressor big enough to sufficiently run air tools is not only inefficient, it's slower too. For us, Mac's recently revamped cordless line provided the perfect solution. Powered by DeWalt batteries (both owned by Stanley/B&D), Mac's new line is fully interchangeable with their DeWalt cousins as far as batteries and chargers go, an especially nice benefit for current 12V or 20V Max users.
In The Box
Our kit came with the ratchet, two 1.5ah lithium packs, and dual voltage charger (12V/20V). The dual voltage charger is especially appealing to us as we will be using both 12V and 20V Mac tools on our trailer. It may be a small detail, but it improves efficiency and seconds make minutes. The 30 minute charge time is right on par with other 1.5ah packs and while they lack a status gauge, I don't see it as being a big deal in it's intended application. As with DeWalt, the charger is a "smart charger" which allows for hot & cold delay, etc., to optimize battery longevity. The kit comes in a very sharp, nice quality, zippered bag, that includes outside pockets for additional storage.
Specifications
Torque:       40 ft./lbs. (54 Nm)
Max RPM:    200
Weight:        2.1 lbs.
Length:        13.75″
Worklight:    Yes (Single LED)
Warranty:    3 Year (Tool) / 2 Year (Battery)
In addition to the warranty, Mac offers 1 year free maintenance on the tool which includes replacement of any parts as a result of normal wear and tear.
Performance
At no place are quality, efficient, tools, more important than in the pits at a race. We're not a high dollar operation that has multiples of everything, so if a tool breaks, you're sunk. Mac made  their name in the race track pits of America, so it seems only fitting that our test takes place there. If you watched our 12V Ratchet Fight, you probably noticed Dan and Eric commenting about the length of the Mac compared to the others. That added length is a big advantage in our application and a big reason why the Mac initially caught my eye. Not only does it provide greater leverage for busting fasteners, it allows us to reach deeper into the frame to access hard to reach fasteners. At nearly 14″ long, the BRS038 reaches even the deepest seated fasteners with room to spare and doesn't place my hand or fingers in harms way.
Another feature Dan and Eric commented on was the ability of the Mac to stop when you let off the trigger as opposed to the "free wheeling" tendency of the others. This is because the BRS038 features an electric brake for improved precision. Not a huge deal, but helpful when trying to line a 6 point socket up to go on a fastener. The LED work light is mounted at the middle of the tool just above the paddle switch. It does not stay on when you let off the trigger (not an issue at all for me), but provides shadow free illumination of the work piece at any angle. The rubber moulded grip provides a secure grip, and bumpers at the top and bottom of each side, and on the head of the tool, provide adequate protection of both the tool and the work piece.
The paddle switch is long. It doesn't engage the tool until depressed about half way, which works to your advantage as it provides a better grip and allows for greater control in precision situations. It also make activating the LED without engaging the tool a snap. Power wise, the 40 ft./lb. torque rating is on par with (if not slightly higher than) other 12V ratchets on the market. I've used several, and the BRS038 feels stronger than any of them, but that could just be in my head.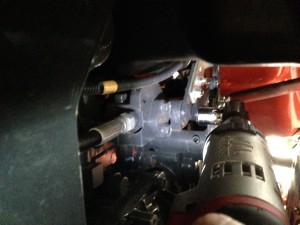 As stated previously, the biggest advantage to a cordless ratchet is speed and the BRS038 delivers just that. In our test we removed a 3/4″ long manifold bolt in 2.51 seconds with the BRS038, with a traditional 72 tooth ratchet our time on the same bolt was 9.37, meaning the BRS038 gives us the ability to remove fasteners nearly 4X's as fast, potentially shaving multiple minutes off our repair times in a single outing. Whether you're turning wrenches in a race pit to get your vehicle back on the line, or in an auto shop working flat rate to feed your family, the time savings is undeniably valuable.
Internals
You didn't really think I wasn't going to take it apart did you? Normally the first question everyone has about a ratchet is tooth count, but with a powered ratchet it really doesn't matter. My primary reason for taking it apart was to determine how easily user serviceable the ratchet is. My conclusion is that anyone who has even a basic understanding how ratchets work, could easily remove the gear assembly for cleaning and lubricating. The ratchet features 3 lubrication ports, so a tear down for lubrication isn't necessary, but should you ever need to, you simply pop out the small retaining ring, place the directional level in neutral, and push it out the front. There are essentially 3 washers that go a specific way, so pay attention. If you get them wrong the ratchet won't re-seat properly and the retaining ring won't go back in, so you really can't screw it up.
Conclusions
All in all the BRS038 delivers the performance and efficiency you expect from Mac Tools. It's a great performer, easy to use, nicely designed, and powered by the proven DeWalt 12V Max platform. Of the all the 12V ratchets we've seen here on TIA, I think the BRS038 will be the 1st choice of traditional mechanics. It's a real superstar in the pits and a great addition to our race team. Dan was passively critical of the selector switch citing it's small size and difficulty using with gloved hands. I share that opinion but while I would like to see it bigger, it really isn't any bigger or smaller than any of the other options on the market and enlarging it would make it more difficult to service or require the head to be bigger. Consequences considered, I think it's fine how it is. The only real critique I can offer is the 3 year warranty. At $349 on the Mac site, I'd like to see a 5 year warranty.
Mac's revamped cordless line is a great addition and gives them the nicest cordless line-up on the trucks in my opinion. As always, thanks for reading, and stay tuned to TIA for more from Mac Tools.

---