So the question is where do I start?  I know some of you have never heard of Hults Bruk, some might balk at the price and some of you might wonder why I am reviewing this axe and hatchet. So this Hults Bruk review is going to be a little different than what you find in other places.
Originally I was going to split this up into three articles, one of the axe, one on the hatchet and one on the company.  However, as I was planning this out, I figured a lot would get lost by splitting it up.
When I first heard of Hults Bruk, I was the guy who balked at the price.  Why would I want this when I could go to a big box store and get one for a third of the cost?  I will answer this later on in the review but I think it's important to know where I first stood about these tools.
Second, why am I reviewing this when there is more experienced outdoorsman that have gone to great lengths to check out these tools.  This one I will answer now.  I love the outdoors and I go camping a lot.  However, I am not like the others who have reviewed these tools and spend a great deal of time in the woods.  For those guys, it's a no brainer to go with Hults Bruk.  But what about people like you and I who like camping but we aren't living in the woods day in and day out.  Do we pay for this high price tag for something that we occasionally use?
So for this review, I am not going to break down every little aspect of the axe and hatchet.  I want to come from the point of someone who loves the outdoors but isn't a hardcore outdoorsman.
So to sum this up, this review isn't for the guy who knows everything about axes and hatchets.  This is for the common man who is looking for a little advice about these and whether the price tag justifies the quality and the usability of these tools. As I said earlier, I was in the same boat as most of you who questioned the price and why people don't just by a cheap axe or hatchet.
Hults Bruk Review Overview
The outdoors while magnificent, can also be a little dangerous.  If you are wandering off too far, you can get lost, get hurt especially if you don't know what you're doing.  Heck, even if you don't wander off, you need to be prepared for anything, even the expected, and of course the unexpected.
So when you go out, do you really need the best of the best?  What if you're going camping in your back yard or a campsite?  For me, I don't care where you are outdoors, the one thing I have learned over the years is that having the right tools makes you not only safer but is less frustrating and in the end, much cheaper.
Sure you can go to a big box store and buy an axe or hatchet.  But you are getting what you pay for.  You are getting a sub-par product that will work just about as good as you would expect.  The blade will dull quickly, the tool might not be designed for longer periods of use and isn't designed for the long run.
So from here on, I am in the company of wanting the best tool for the job, even at a higher price tag.  I want something that makes my job easier, lasts under my use and will be something I am proud to own. Which brings me to Hult Bruk, a company I learned a ton about and a company that other companies envy.
One thing I learned was just how good Swedish steel is.  I always thought Japan was the king for steel and sharp tools but after doing some research, Sweden takes the cake on this area.
There is something just awesome about holding a handmade axe or hatchet in your hands.  It's something you don't get anymore with all the mass produced products on the market.
All I can say is once you pick up one of these in your hands, you feel like a bad a**.  Do I need to say more?
Hults Bruk Review Company
When we look at a company in the United States, we think it's old when it dates back to the mid-1800s.  While that is old, our country is young.  Hults Bruk is a Swedish company that has roots back to 1697. Image that, a company who has been in the business for not a century, but over three centuries.  So let me ask you, do you think they know what they are doing and have the experience to be the best of the best with that type of track record?  I sure do.
I am not going to get into all the details about the Hults Bruk company as I will let you dig deeper. Take a look where they built this facility and why they built it where it's still located today.  Take a look at the living quarters and when they were made, some of them are older than most of our towns.  The story and history of Hults Bruk is truly amazing.
Hults Bruk Review – Almike
This hatchet is perfect for small branches and when making kindling, plus a wide range of other small tasks. Yes, this hatchet is hand forged in Sweden and made from Swedish steel.
If you are looking for a small side carry hatchet or something for your pack, this is the hatchet you want to go with.  The hatchet head (turpentine pattern) has a 1 pound head and a total weight of 1.75 lbs.
The handle is American Hickory and measures 16″.
Part of the grinding process, the steel is struck multiple times to increase the density, making it more durable.
What I love about this hatchet is the tapered head.  Makes it easy to use when holding the end of the handle or choking up, holding it close to the head.  The tempered zone is designed to hold a very sharp edge for longer periods of time.
The hatchet comes with a leather sheath that protects the edge and just is a cool looking sheath.
On the back of the hatchet, there is plenty of if room if you need to strike the head for additional power.
Hults Bruk Review – Torneo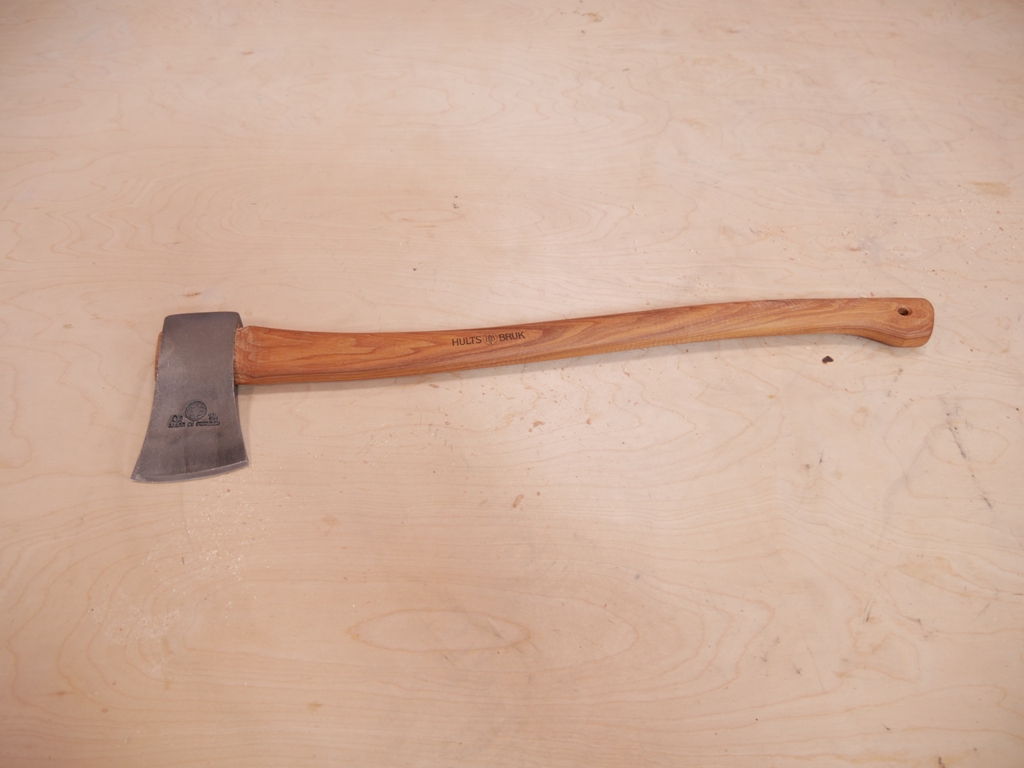 The Torneo is an axe that is designed for cutting up or taking down small to medium size trees.
The handle is made from US hickory and is 26″ long.
The head has a weight of 1.75 lbs with a total weight of 2.85 lbs.
As with the hatchet, the Torneo comes with a leather sheath that helps protect the head when not in use.
Hults Bruk Review Performance
So the first thing I noticed was when I took off the sheathing, was how sharp these are.  It's no joke, they are razor sharp.
So here is the deal.  We went out to the woods by our house and just tried to use it on a variety of different woods, shrubs and more.  All I can say is you haven't swung an axe or hatchet until you swing a Hults Bruk.
The balance, the ease of swinging and the power you can generate, plus I feel like this doesn't lose it's edge like you get with other cheaper axes.  Sure, it will lose its edge, but not nearly as quickly as a house brand axe or hatchet.
I wish I did have more pictures of when we went into the woods but when we left, I didn't realize I had a dead battery in the camera.  So once the weather gets a little better, I will take some more pictures and add them to this article and to social. After our camping trip, I will also add those pictures so you can see first hand.
However I can add all the pictures I want but you will never get the real feeling by looking at pictures, this is a tool you need to pick up in your hands and try for yourself.
Hults Bruk Review Value
The Hults Bruk runs about $140 on Amazon.  Again, you can find something cheaper but trust me, pick one of these up and you will see exactly why it's $140 and why nothing you have owned before will compare to this hatchet.
The Hults Bruk Torneo runs about $100 on Amazon.  However, this axe is like no other axe you have picked up.  Not even close to anything you see at your local store.  The balance, the quality and the ease of swing are just beyond words. So for $100, yes, it's a great deal.
Hults Bruk Review Final Thoughts
I am normally the guy who wants the best tool for the job at a reasonable price.  I truly feel the Hults Bruk is that axe and hatchet.  Each one brings something unique to its category.  The style, the finish, the story behind the tools but most importantly, the performance.  I have done a lot more with these tools and will showcase them on our social channels, plus I am going camping in July and will get a ton of use with them, which I will post also.
Bottom line, if you want the best tool for the job, don't be afraid to spend a couple bucks more.  I am amazed at the company and amazed at the tools, the quality, the craftsmanship and feeling of holding history in my hands.