If you've done much work on cars, equipment, or much of anything really, you've undoubtedly realized that there are certain situations where your wrench or ratchet just isn't long enough. A confined space in an engine compartment, a stubborn fastener that requires a little extra leverage, or any of the countless other situations where a little extra length is in order, will quickly kindle an appreciation for long pattern wrenches.
EZ Red has taken the concept to a whole different level with their Extra Long Flex Head Spline Ratcheting Wrenches. Ratcheting wrenches, flex heads, Spline drive, and long pattern wrenches are all well known concepts, but what's not so usual is combining them all into the same wrench.
Features & Design
EZ Red offers 2 different styles of these wrenches. Both the 4 piece SAE WRSL4 and 5 piece Metric WR5ML sets feature true locking flex heads and offset boxes giving them some added function, but our set is the more basic 5 piece NR5M Metric set with flush boxes and non-locking heads covering 8, 10, 12, 13, 14, 15, 16, 17, 18, and 19 mm sizes. The set comes standard in a very nice quality foam tray if you're into that sort of thing. It looks nice and keeps everything in place, but it takes up a lot of space as well. As stated, these are spline drive wrenches. If you aren't familiar with spline drive, it's a 12 point variation that works with multiple types of fastener designs including 4, 6, 8, 10, and 12 point as well as External Torx. They also do well on rounded and damaged fasteners. With a butter smooth 72 tooth mechanism, excellent finish, and some of the widest beams of any wrenches I've used, these things have a lot of curb appeal for sure.
Performance
As their name suggests, these things are extra long. The smallest wrench in the set, the 8 x 10 mm, measures nearly 10″ in length while the largest 17 x 19 mm comes in at nearly 16-1/2″. In each instance we're talking nearly twice the length of a standard Gearwrench combo. The 72 tooth mechanism is incredibly smooth. It requires just 5 degrees of swing to operate and has very little back drag. While not a true locking head like the WRSL4 and WR5ML sets, these do feature ball & detent type locking system that does a good job of keeping the head where you want it. I also like that the head is attached with a screw rather than a pin, which allows you to tighten it should the need arise.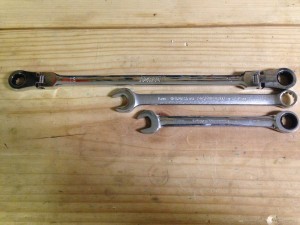 The first thing that grabbed my attention with these things is the wonderfully wide beams. With a contact area over 7 mm wide, they are over twice as wide as a standard Gearwrench and are without question some of the most comfortable wrenches I've had in my hands. To get a feel for the tolerance of the wrenches, I torqued the 6 ROPS mounting bolts (19 mm) to 150 ft.lbs. I popped them loose with the wrenches and re-tightened them as tight as I could get them. The ratcheting mechanism was as smooth after the test as it was before. 150 ft-lbs. is a lot of torque for a ratcheting wrench and likely more than they'll encounter with much regularity. If you haven't used spline wrenches before, you'll appreciate the all purpose nature of the design and you'll find that they do well with damaged fasteners as well. The only real critique I can offer on these wrenches is the thickness of the box end lip. For example, the 13 mm wrench has a lip that calipers at 5.50 mm. A 13 mm Gearwrench comes it at 4 mm. Is that nitpicking? Yes, and it may well translate to added strength, but I felt the comparison was worth noting.
Conclusions
All in all these are nice wrenches. With box end security, breaker bar length, ratcheting convenience, and less clearance requirement than a ratchet, theses wrenches will find their niche in your shop. Whether it's getting into a hard to reach area, or the extra length providing some added leverage on a stubborn fastener or keeping your hand out of harms way, you'll appreciate what these wrenches have to offer. At $134 on Amazon you'll also find this set to be much more affordable, yet very similar in quality, compared to similar offerings on the trucks. They're also covered by EZ Red's Limited Lifetime Warranty, so you can wrench with confidence.
You'll have to stay tuned to TIA for more EZ Red reviews, but in the mean time, you can check out their entire product line at ezed.com