When it comes to table saws, Dewalt is considered to be one of the top.  They have been around for a while and proven to be tough.  The Dewalt Job Site Table Saw can not only be found on job sites throughout the world but also in woodworking shops, garages and more and that is because they are built well and perform like champs.
Dewalt Job Site Table Saw Features
The DWE7480 is a 15 amp table saw designed to rip through wood.  The motor produces speeds of 4,800 rpm to make quick work out of any job. The saw has a 24-1/2″ rip capacity and comes with a 3-year warranty. The saw is 45 lbs which means it's light enough to move around but heavy enough where it wouldn't be sliding off the table when making cuts.
On the front of the saw, you can adjust the height and bevel angle (0-45 degrees).  You can also turn on and off the saw.
The knob to adjust the height is large and easy to adjust up or down.
One nice feature about the saw beside the lockout feature is how easy it is to turn off the saw when done making your cut.  The button is large and is depressed to turn off so if you are in an awkward position, you can turn off the saw.
One of the best features is rack and pinion telescoping fence rails.  This makes it smooth and makes it true.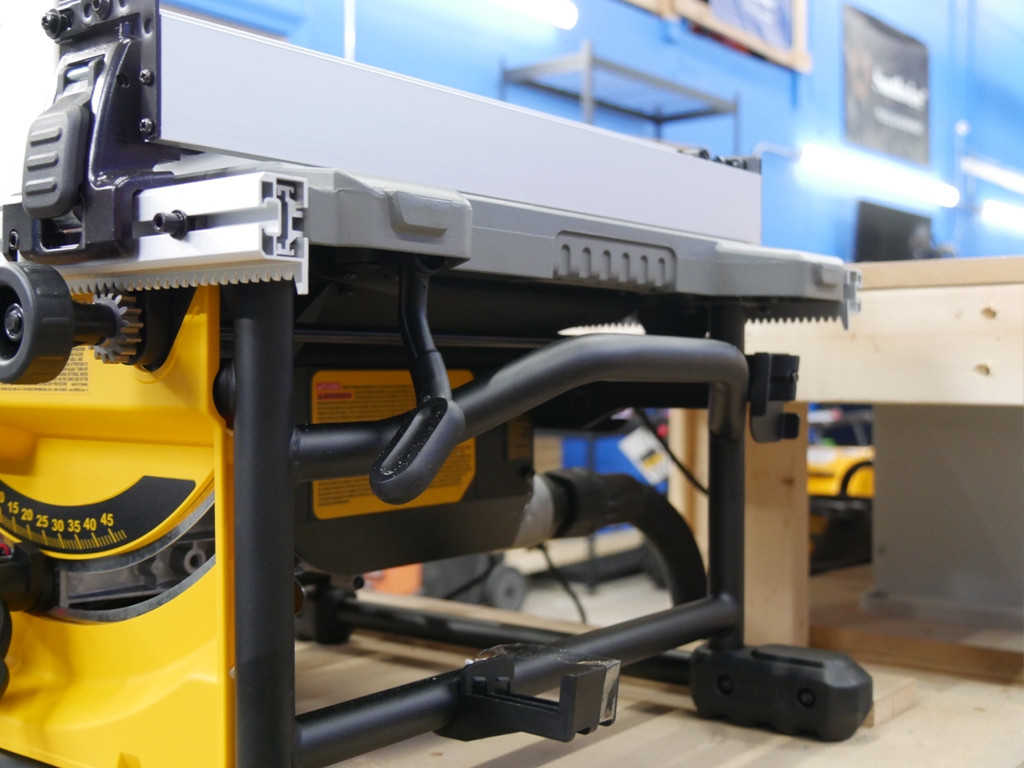 On the side, you can lock and unlock the fence to move it.
The top plate is removable to access cleaning and allows you to use kickback protection accessories.
The pushrod is conveniently located on the side of the fence so you're not reaching underneath when making a cut.
If you are using this in a shop or want dust collection, no worries, you can easily connect this to your favorite system.
Dewalt Job Site Table Saw Performance
When it comes to performance, this saw is one of the top performers in the market place.  I have used these Dewalt saws for a number of years and they are strong.  I have cut anything from thick boards to large items such as 2×6 long ways.  Time and time again, the saw performs.
Again, this saw will cut through just about anything you throw at it.  Not that we recommend this but we did push some wood through to try and get the saw to bog down, which was extremely hard to do.
Overall the saw cuts extremely well.
Dewalt Job Site Table Saw Value
You can pick this saw up at The Home Depot for about $320 which I think is a steal.  I have been using Dewalt table saws for a number of years, plus I have seen hundreds of them on jobsites.  These saws last, they are easy to work with, easy to move around and work like a champ.  So for a $320 investment, it's worth every penny.
Dewalt Job Site Table Saw Final Thoughts
If you are familiar with Dewalt table saws, you know how well they are built.  They are solid and designed to handle any task and any jobsite.  I love how easy it is to move around and set up.  While I love all the aspects of this saw, my favorite is the fence and how easy it is to get precise.  If you are looking for a saw that will last for years to come, well built, easy to use, this is the saw to own.
*This is part of the THDPRoSpective program