DeWALT has a reputation for creating tools that are powerful, durable, and long-lasting. They also continue to be recognized for their safety-driven innovations. The DeWALT 20V Stud and Joist Drill is the latest in their professional-grade power tools equipped with the  E-Clutch System® safety feature. In addition to the E-Clutch feature, DeWALT claims this drill performs with up to 83% more power than previous models.
We'll talk about these features and more today…
DeWALT 20V Stud and Joist Drill Features
High efficiency, high performance from brushless motor design combined with FLEXVOLT ADVANTAGE™ technology
Ergonomic main and top handles for better user control
TOOL CONNECT™ compatible (sold separately)
Includes: chuck key and holder
3-year limited warranty
DeWALT thinks they can do it all with power, performance, durability, and now safety. Let's see if they can.
DeWALT 20V Stud and Joist Drill Overview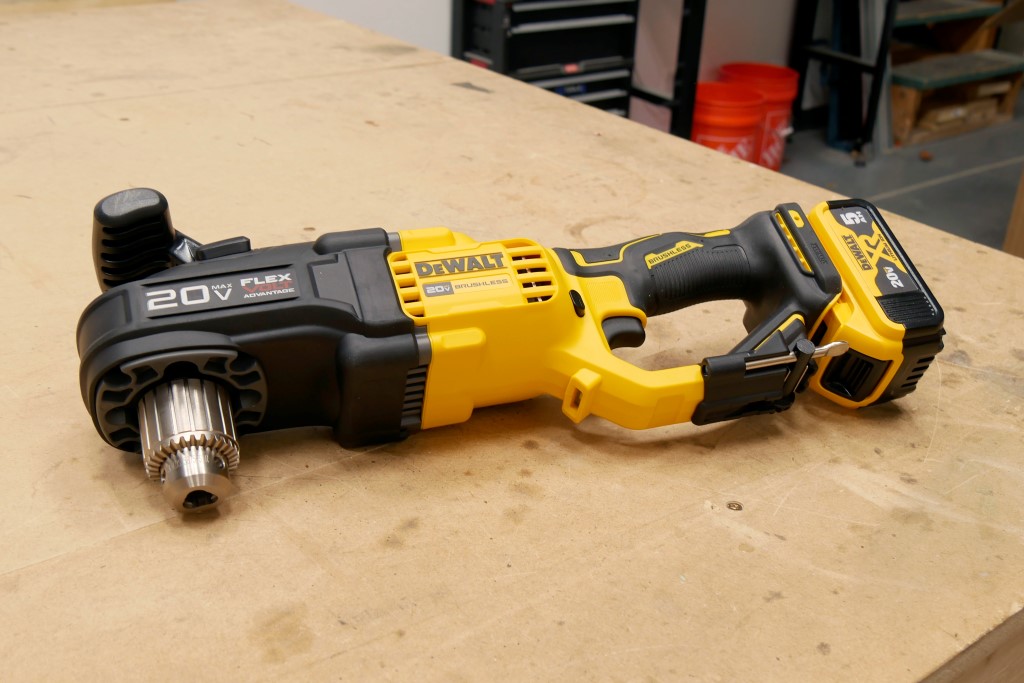 The DeWALT 20V Stud and Joist Drill (DCD444B) is sold as a bare tool. We paired ours with a DeWALT 20V MAX* 5Ah battery. It weighs in at 11.3-lbs. and is 18.54″L x 8.9″W x 5.59″H.
This cordless drill is built with a brushless motor and designed for the 20V/60V MAX* FLEXVOLT Battery System. It is designed for drilling through studs and joists, typically required during electric, data, and plumbing installations.
This model is built with a metal chuck collar and 1/2 in. chuck.
The DeWALT 20V Stud and Joist Drill has two handles, each ergonomically designed for their specific function. The main handle has a rubber overmold for a comfortable grip. The top handle has a comfortable design for laying on top of the tool. These two handles provide a secure hold and offer a lot of control over the device when in use.
This drill has TOOL CONNECT™ capabilities (sold separately). TOOL CONNECT™ is DeWALT's Track and Locate app. This Bluetooth-based feature helps prevent tool theft and loss. It's obviously great for anyone trying to manage tools with a large crew. I like it for finding tools that Dan "borrowed" from me.
DeWALT 20V Stud and Joist Drill Safety Features
DeWALT's E-Clutch System® is a built-in anti-rotation sensor just below the top handle. It senses and prevents bind-up situations by automatically turning the tool off. Meaning, if the tool were to aggressively or suddenly move to the left or right, it would shut down completely before the drill could swing out of control.
This safety feature prevents user injury and injury of anyone close by. It also prevents tool and worksite damage. In a way, this is a cost-saving feature because it leads to longer tool life and less time and money spent replacing damaged materials.
DeWALT 20V Stud and Joist Drill Performance
DeWALT touts that when the DeWALT 20V Stud and Joist Drill is paired with a 20V/60V MAX* FLEXVOLT Battery it can drill up to 495 holes with a 7/8 in. auger bit over the course of a single charge. This drill has a max speed of 4500 RPM.
DeWALT 20V Stud and Joist Drill Value
The DeWALT 20V MAX* Brushless 7/16″ Stud and Joist Drill is a very specific tool that appeals to particular tradespeople. Because of this, there isn't a lot of competition. The most comparable model available is Milwaukee's 18V Hole Hawg Right Angle Drill. It prices similarly, but it does not have safety features like DeWALT's innovative E-Clutch System®. This safety feature matched with 20V/60V MAX* FLEXVOLT Technology gives you a high-performing, professional-grade drill that is also safer to use.
While there is not a lot of competition for a cordless 20V option, DeWALT has set the standard pretty high. You can buy this drill from The Home Depot starting at $299 (tool only), which is a modest investment for the tradespeople this drill benefits.
Final Thoughts on DeWALT 20V Stud and Joist Drill
As mentioned, the DeWALT 20V Stud and Joist Drill is a task-specific tool. However, it is an essential tool for plumbers, electricians, home builders, and remodelers. DeWALT has already established themselves as a trusted brand for professional tradespersons. But it's the FLEXVOLT ADVANTAGE technology and performance combined with the E-Clutch System® that make this drill stand out.