Up until a few years back, I had never really considered using a battery powered grease gun. Mainly, because my tasks requiring one are limited. This was also because I truly did not understand how much these can benefit you in the long run. Pneumatic grease guns have been around for a while, but the pain of dealing with an air hose when working around heavy equipment is never fun. Luckily, the battery-powered grease gun is now a popular option for mechanics, heavy equipment techs, and anyone who finds value in the tool. So how does the Dewalt grease gun stand up?  Let's talk about the gun and run through the DeWalt 20V MAX Grease Gun Review.
DeWalt 20v MAX Grease Gun Overview
One of my least favorite tasks as a kid was helping my dad grease up our trucks, trailers, and industrial snowblowers. Funny enough, it wasn't because of the mess or hassle. Instead, because of how archaic and inconvenient the manual grease gun is. Not only is it a pain to actuate the gun (especially heavily used ones) but add in a tight spot and it's nearly impossible! Luckily, gone are the days of this due to the introduction of reasonably seized, and convenient battery grease guns.
The DeWalt DCGG571M1 is an industrial grade tool built for pros and hardcore homeowners. Rather than dealing with the usual difficulties of greasing in tight spots, or the long sessions lubricating tons of fittings on a tractor boom, this tool just simplifies the chore.
DeWalt 20v MAX Grease Gun Review Features
Since this is a tool that will surely be exposed to some rough environments, the build quality is just where it should be. The shell is comprised of glass fiber reinforced plastic, with the rest of the internals being housed in what appears to be die-cast magnesium. Overall, the construction and fasteners are of great quality as well. This tool is just as rugged as it looks!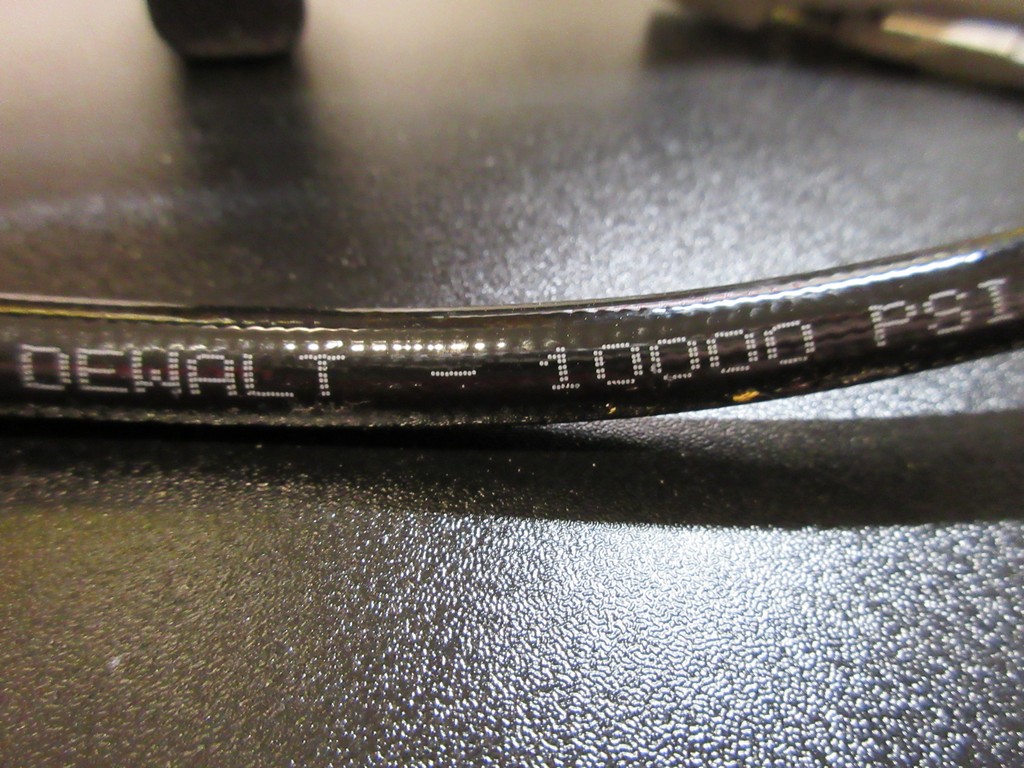 At 42 inches, this flexible hose is sure to reach into most spots you'll be working.
The hose includes spring guards and is rated at 10,000 psi max pressure. There is also a handy clip to protect the hose from pinching and damage.
The motor delivers a maximum of 10,000 psi to power through even the most clogged grease fittings. Even more impressive is the 5oz/min average flow rate with a full press on the trigger.
On the front end of the tool is a very bright LED work light with on/off switch to assist in dark and tight areas. Even though the light is in a fixed position, it provided a nice wide beam to the work area.
Most impressive about the DeWalt is the runtime. It is estimated that you'll be able to load 16 cartridges on one single charge of a 20v MAX 4 amp-hour battery.
To preserve the outer shell of the tool, the grease gun can rest on two no-mar feet that are part of the tool shell mold, with a nice polypropylene rubber overmold.
To control the flow speed of the grease into the fitting, the trigger is a pressure sensitive potentiometer. The farther the press, the more flow you'll get into the fitting.
To prime the tools pump system in between cartridges, there is an air bleeder valve.
DeWalt 20v MAX Grease Gun Review Performance
I was able to grease up the U-Joints on our daily driver, as well as a snowblower and lawn tractor with the DeWalt. During this, I found that it performed exactly as designed, and exceeded my expectations! It was definitely much better than using a manual gun to deliver grease to the fittings. I had no issues personally, but if you're working on a front load tractor boom, you'll definitely need a way to rig up the tool at height. The hose, albeit long, is not long enough to reach some fittings if it's on the ground. All on all, this purpose built tool did what I needed it to do. It was much easier than if I was using a hand pump gun or bulky pneumatic setup.
DeWalt 20v MAX Grease Gun Review  Value
Now, fully understand that the average automobile owner certainly won't be owning one of these. Mainly because the task of greasing is completed with routine maintenance, and of course with the advent of sealed grease fittings in auto parts. However, for someone who owns a farm or industrial equipment, this tool is a must-have. It will save time and tons of hassle and effort! The bare tool can be had for $169.00 at The Home Depot, a pretty astounding price for a tool that will last an incredibly long time. For an extra #30 you can pick up the tool, plus a charger and battery for $199 at The Home Depot.
DeWalt 20v MAX Grease Gun Review Final Thoughts
For the right owner, I can definitely see the value in owning the DeWalt Grease Gun. Lubricating grease fittings can be an arduous and long chore. If there are many valves or just a few in tight crevices it gets difficult. For the future, I definitely plan to zip through my more basic greasing tasks with this tool. No matter what, it makes maintenance much simpler.