I've mentioned this before, but I will say it again, my favorite tool is a miter saw. Now I know it's hard to pick a tool as your favorite, but I just can't help how I feel, miter saws just rock. Now, I have a few runner-ups, like a router and of course a table saw and drill, but I always feel most comfortable on a miter saw. Today we take a look at a compact version that is designed for ultra-portability and convenience. Let's jump into the Craftsman Cordless 7-1/4 Miter Saw Review and see what it's all about.
Craftsman Cordless 7-1/4 Miter Saw Review Overview
Craftsman has launched a lot of new products this year with the re-launch, but this was one I was most eager to check out. As a self-professed Miter Saw junkie, I knew I had to give this one a closer look.
Miter Saws are indispensable in the shop for trim work and a multitude of woodworking uses. Most frequently they come in 10-inch and 12-inch blades. Those saws are commonly paired with a sliding mechanism allowing them to cut even larger stretches of material. I have used my large miter installed with the Kreg Track System for a while now, but there are times when a portable option would be much more convenient. With a smaller sliding saw and no cords to hold you back, there is a lot of promise in a saw like this for a wide range of users.
Craftsman Cordless 7-1/4 Miter Saw Review Features
The Craftsman Cordless 7-1/4 Miter Saw runs on the Craftsman V20 battery platform. Using the included 4Ah battery, the saw is stated to be able to make 585 cuts in 3-1/4 inch MDF baseboards. This saw measures in at 12 inches tall, 23 inches wide and weighs 21.8 pounds.
The 3800 RPM Motor allows for enough power to cut through 2X lumber. There is also an electric brake to allow the blade to stop spinning quickly upon release.
A power button is located above the handle. This is a safety precaution to prevent accidental starting when a battery is installed. The main trigger is a switch trigger and allows easy activation when gripping the handle.
A single-bevel design allows for up to a 47-degree bevel for making compound cuts.
Miter cuts of up to 47 degrees both left and right, with nine different detent stops built in for increased precision during use.
The sliding capability allows for a cut capacity of 8-inch crosscuts when set at 90-degrees, and 5.5 inches at 45 degrees. As well this saw features a 3-5/8-inch nested crown and 3-1/2 inch baseboard capacity when cutting vertically.
The sliding mechanism uses two rails for the motor to slide on, with a lock for easy travel and increased safety.
An LED cut line allows for increased visibility and accuracy when in use.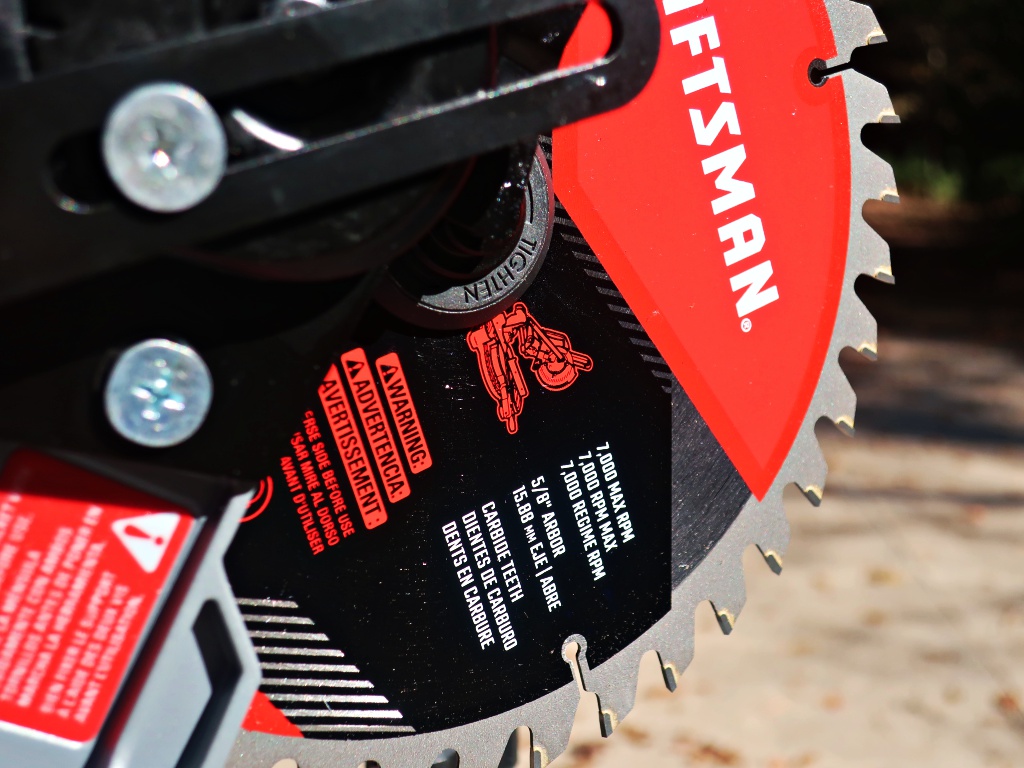 A 7-1/4 inch, 40 Tooth Carbide Tipped Blade is included with the saw. The saw features a .625 inch arbor which is fairly standard for the blade size.
This miter saw has included handles built into the saw's table for easy portability as well as a tool for blade changes and adjustments on board.
Craftsman also included clamps to hold material stable for increased safety during cuts.
A dust bag is included with the saw can be interchanged with a shop vac for dust removal.
Craftsman includes a 3-year limited warranty on this tool.
Craftsman Cordless 7-1/4 Miter Saw Review Performance
This saw is a very unique saw and can suit a lot of users. The small footprint and reduced weight allow for exponentially better portability over full sized miter saws. With the sliding capability, you still maintain a decent cut capability too, which will likely be a big concern for those considering a saw like this. This saw comes with a 7-1/4 inch blade, but still has a cut capacity of 8 inches on a 90-degree cut. This still maintains quite a bit of versatility for the user.
The stock blade was fairly decent for one included with a saw. As a general rule, one of the first things I do with a saw is to upgrade the stock blade. For testing purposes, I used the included one before making the switch. It wasn't bad at all. The 40-tooth blade had carbide tips and for most users is more than sufficient to give a good quality cut. The saw has a decent mechanism for sliding as well. It isn't as rigid as I like, as I prefer a slightly stiffer rail system, but that is a personal preference. It ran smooth and once you got the hang of it, it was fairly intuitive. If you have never used a sliding miter before, I would definitely recommend some time spent getting used to the motion before you ever turn it on. The feel of them can be a bit strange if you're used to a standard drop on a miter saw.
The one small issue I had with it was the dust bag. During my testing, the dust bag came off the plastic adaptor quite quickly. When I investigated further, I saw that the bag was held on with a simple zip tie. Thankfully I grabbed a slightly thicker one and was back in business quickly. You can see the repair in the above photos. For users on a job site, this saw would likely be hooked up with a dust extractor, but I would always recommend that over any dust bag for a homeowner too. If you opt to use the dust bag, which is performing fine now, I would definitely purchase a clamp or use a stronger zip tie to correct this small problem.
The battery life was impressive too. Miter saws by nature are power suckers, making cordless ones difficult to produce. While it claims over 500 cuts on a single charge of MDF, I used it on 2X material for a fair amount of testing and it held up well too. The convenience of cordless power is an asset in any tool, and this one certainly has a lot going for it. This saw is also designed with portability in mind not only with its lightweight but also things like rail locks and motor locks to keep the saw as compact and secure as possible.
Having said all of this, the obvious question comes down to who does this saw work best for? To me, I wouldn't run any cordless miter saw for hours at a time. They just aren't designed for that kind of heavy use. I think this saw fits in nicely for the occasional user,  whether professional or a homeowner/ DIYer.
Craftsman Cordless 7-1/4 Miter Saw Review Value
This Miter Saw from Craftsman is a great value at $229.00 for the saw with a 4.0 Ah battery and rapid charger at Lowes. Considering the cost of batteries today, this saw is a good value. I don't think I will quite replace my corded 12-inch miter saw, but for small projects, this saw will definitely have a place for me. To be honest I think this saw could suit a variety of users and is priced well for its feature set.
Craftsman Cordless 7-1/4 Miter Saw Review Final Thoughts
For a homeowner looking for a good starter miter saw the Craftsman Cordless 7-1/4 Miter Saw is a great option. Not only would you be able to skip the concern of power cords, but the size is small and easy to store. A professional who needs a miter saw occasionally for molding and trim work will find a lot of value in this as well. I would like to see the dust collection improved, but this was the saw's only real flaw. This saw fits in a great niche with a lot of professional grade features without the professional price tag. While this won't replace a full-size miter saw in a shop, I also couldn't imagine not owning one like this after just a few uses.