Sponsored Post
In 1876, Otto Bernz created a company to sell plumbers' tools, furnaces, and torches.  His goal was simple, quality products. Over time, Bernzomatic has grown to a much larger company, but they haven't changed their goal – quality products. Bernzomatic recently contacted us and wanted us to sponsor a post about their Black Friday special. Normally we don't do sponsored posts, but this is a product I love and I have been using for years. So we figured, why not? We can tell you about the Black Friday special, and it would be a perfect time do a review on one of their flagship products. So let's jump into the Bernzomatic TS8000 Review. But before we jump in, let me tell you about the Black Friday Special.
Bernzomatic TS8000 Black Friday Special
Usually Black Friday is only Friday, but this special runs from today until November 29. If you don't have this torch, now is your chance to pick it up for a great price. Trust me when I say you will love this. I am not saying that because they paid us to tell you about the special, it's just a product I really believe in. Bernzomatic is offering two deals during this time frame.
Save up to $10 on the Bernzomatic TS8000 Kit at The Home Depot.
Save up to $6.59 on a 2 pack of Map Pro Fuel
Okay, now that we got that out of the way, let's jump into the TS8000 review.
Bernzomatic TS8000 Review Overview
The Bernzomatic TS8000 is designed for a portable and easy solution for job site projects including soldering large diameter copper pipes, brazing, heat treating and light welding. The TS8000 is designed to be simple to use, durable enough to take the abuse of a job site and very reliable.
If you aren't familiar with Bernzomatic, they offer a ton of different products, plus a ton of helpful videos and other information over at Bernzomatic.
For me, I have owned the TS4000 since 2003 and have never had a single issue with it. I moved into my house in 2003 and needed to remove old galvanized pipes and install copper pipes, so that is why I first bought it. Since then, I have used it for so much more, such as lighting my fireplace, my fire pit and more. In fact, I keep it at arms reach on my work bench because I reach for it more than I ever thought.
You may be asking yourself what's the difference between the TS4000 and the TS8000? The main difference is the TS4000 is either on or off. With the TS8000, you can control the flame which makes it more versatile. Personally, I would buy the TS8000 because of being able to control the flame size.
Bernzomatic TS8000 Review Features
The torch is designed with a cast aluminum body which means it's durable, even under heavy uses.
The yellow knob is more of a safety feature. When not in use, you can turn it to the off position and you don't have to worry about it accidentally lighting. When you want to light the torch, turn it to the on position and push in. The torch fires up every time no matter if it's cold or hot outside. To turn off the torch, just let go of the yellow button and the torch will extinguish.
If you want to leave the torch on but don't want to hold the yellow button down, don't worry – Bernzomatic designed this with a lock on feature. Just keep the yellow button depressed and then depress the lock switch. You can then let go of the yellow button and the torch will stay lit without having to hold any button down.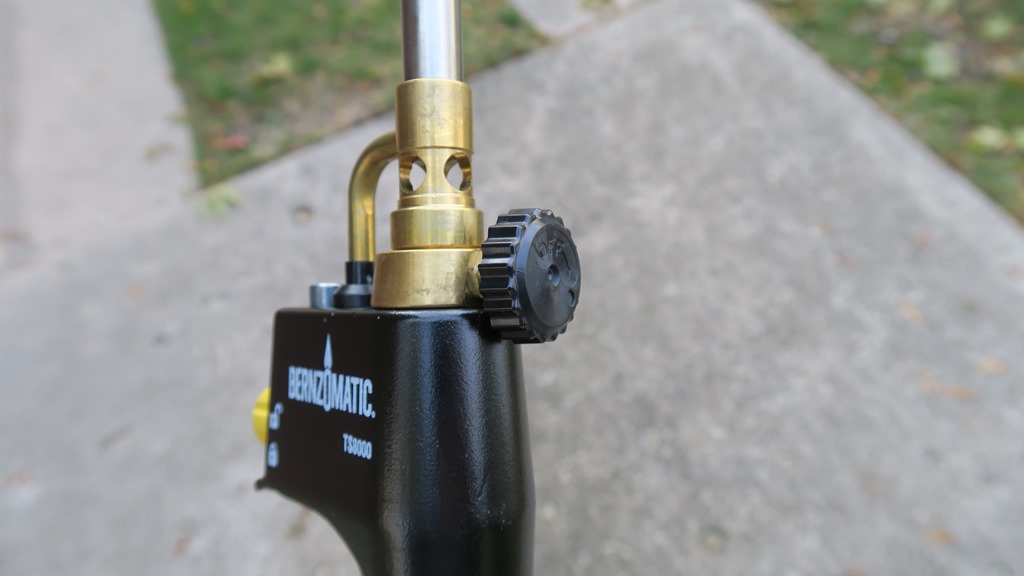 To adjust the flame intensity, just turn the knob left or right.
The torch puts out an ultra swirl flame which provides maximum heat – great for soldering, brazing, heat treating and light welding.
I always use the Bernzomatic Map gas, which comes in a 14.1 oz cylinder.
Bernzomatic TS8000 Review Performance
As I said, I have been using the TS4000 since 2003 and it has lasted numerous drops and a ton of use. I have been using the TS8000 for the past couple of years. I bought it on a Black Friday a couple of years back.
What I really love about this torch is how reliable it is. Most of the time it's out in the garage, which in winter time gets extremely cold. Every time I turn it on and fire it up, it lights in one try.
I also love that even if I tip it upside down, it works perfectly. No matter what angle I use the tool, it performs awesome. I do know it can do this since Bernzomatic has a built-in pressure regulator, so it will give out a consistent pressure, making life much easier.
Bernzomatic TS8000 Review Value
The TS8000 retails for about $55 at The Home Depot. Now that is not with the Black Friday deal, which would be lower. Going off the $55 price tag, which also comes with a cylinder of MAP Pro gas, I think it's a steal. Since I have owned mine for 14 years, how can you go wrong with a price tag of $55?
Bernzomatic TS8000 Review Final Thoughts
Bottom line, you will not be disappointed with the TS8000. The unit is built to last tough conditions and is designed to be reliable. The torch even comes with a lifetime warranty. There is a reason that you see this torch all over the job sites and in every store. Products that last the test of time tend to be the ones you see everywhere. If you are looking for a reliable torch, now is the time to pick it up and save a couple of bucks.