Last month Milwaukee stepped outside of its toolbox and released a surprising product, Milwaukee Ear Buds. These rechargeable wireless Bluetooth® earbuds are powered by a Milwaukee REDLITHIUM™ USB 3.0 Battery and contain features made with trade professionals in mind. But people just want to know, "Are Milwaukee Ear Buds any good?" Well, today I get to figure that out and see if these really are the best earbuds for construction workers.
Milwaukee Ear Buds Guide
About Milwaukee Ear Buds
Milwaukee is a professional-grade hand and power tool manufacturer and supplier, but is also a favorite among DIY'ers, making it a perfect example of a "prosumer brand". Appealing to both professionals and everyday consumers is one reason Milwaukee is one of the most popular tool brands out right now and their products sell well almost regardless of what the product is. However, these earbuds have sparked some debate online about whether or not they are "worth it".
To figure this out let's take an overview of the actual earbuds. Also, Dan gives a 360° view of Milwaukee Ear Buds in this Instagram video.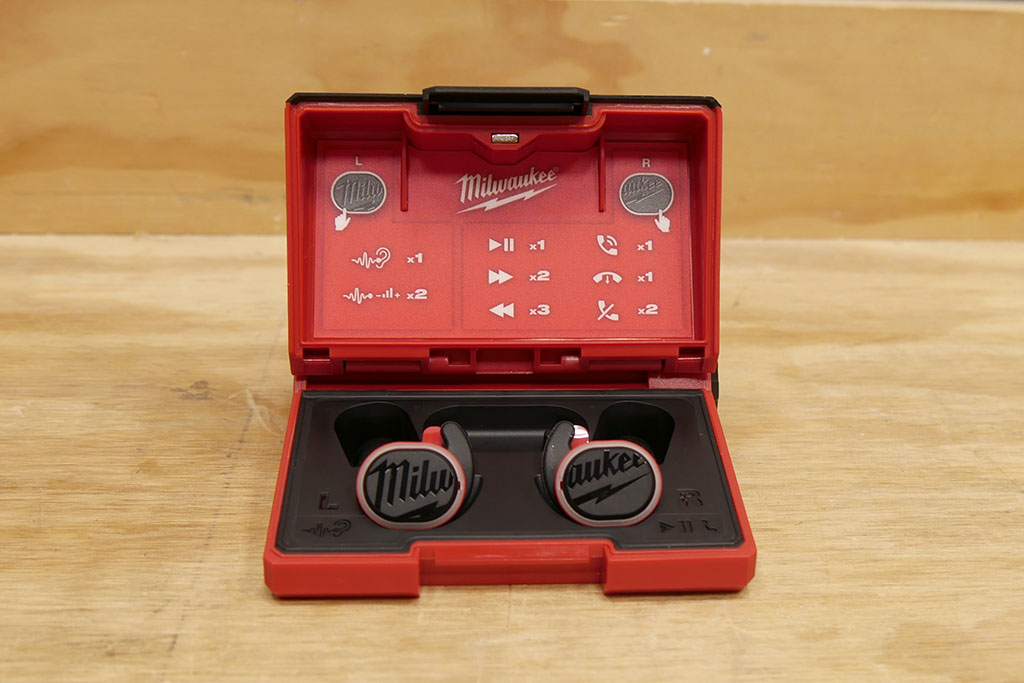 Product Name: Milwaukee REDLITHIUM™ USB Bluetooth® Jobsite Ear Buds
Model #: 2191-21
Features: Promises "powerful and balanced sound" along with Jobsite Aware Mode for situational awareness and safety in construction settings. Perfect fit "ear wings" to keep in place, plus noise reduction of loud external sounds, and passive hearing protection from 25 NRR foam and 22 NRR silicone ear tips. Easy-to-use call control and audio buttons on earbuds that also auto-connect to previously used devices. Also, enjoy up to 55 ft. of Bluetooth® range.
Runtime: Up to 10 hours runtime, and can be recharged up to seven times from a single charge of the Milwaukee REDLITHIUM™ USB 3.0 Battery. This adds up to a total of 70 hours of runtime before needing to plug-in.
Warranty: One-year limited warranty on earbuds, and a two-year warranty on REDLITHIUM™ USB 3.0 Battery.
Price: $179.99 from limited retailers.
Milwaukee Ear Buds Unboxing & Review
This part always makes me feel like a kid on Christmas morning. Because there are so many Bluetooth® earbuds on the market now I really want to take my time and check out everything these Milwaukee earbuds come with.
Accessories
Unboxing Milwaukee Earbuds
You open the box and the earbuds are tucked away in the earbuds case. The case is made of thick, hard plastic, which is better suited for construction sites than most earbuds cases. It also comes with a USB-C cord to recharge the REDLITHIUM™ USB 3.0 Battery.
Here's where it gets interesting. These earbuds come with three different sets of "ear wings". These are used to fit the earbuds securely to your ear. This helps the earbuds stay in throughout the work day, even when you sweat or use high-vibration tools.
There are also a few different types of foam NRR 25 and silicone NRR 22 ear tips. These provide sound-dampening ear protection from loud sounds.
Charging Case & Battery Options
Most wireless earbuds can be charged remotely in their case. What's interesting about the Milwaukee Ear Buds is that they are charged with a REDLITHIUM™ USB 3.0 Battery. Not only does this recharge the earbuds up to seven times, but you can also just replace the battery with a charged one if you have multiple batteries.
If you don't have extra batteries, the runtime on the earbuds and the included battery are sufficient for most people. The earbuds have up to a 10 hour runtime on a single charge, and can be recharged up to seven times off a single fully charged REDLITHIUM™ USB 3.0 Battery. With up to 70 hours of runtime, this is more than enough to get construction workers and trade professionals through the week.
Just recharge over the weekend and you're good again on Monday.
Milwaukee Ear Buds Performance
Finally! The Milwaukee Ear Buds! To my surprise my earbuds were at least mostly charged right out of the box. First impressions, they honestly look pretty cool. The Milwaukee logo is divided across the outside of the earbuds. They are fitted with a default ear wing and ear tip.
The exterior part with the logo is actually a button. Inside the top of the case there's a cheat sheet for going in and out of Job Aware Mode, and phone and audio controls.
But time to check out how and if they work!
Bluetooth® Pairing
Pairing them to my phone was insanely easy. All I did was remove the charged earbuds from the case. The green charge light turns off and then the right earbud starts flashing blue to indicate it's in "pairing mode". From my phone I selected "REDLITHIUM USB Jobsite Ear Buds" and it was done. Probably the easiest Bluetooth® pairing I've ever done.
Sound Quality & Jobsite Aware Mode
First of all, I thought the sound quality was great. There was nothing I would complain about. So, I decided to test some of the controls.
As I mentioned, the underside of the case has a cheat sheet for the touch controls. The right earbud was very straightforward in regard to play/pause, skipping or reversing, and phone controls.
The left ear bud, which controls "Job Aware Mode" was less straightforward. Turning on Job Aware Mode with one click was easy, but moving through the three modes was less intuitive. However, after pausing to actually read the instructions it was very easy to test (pause between each double click to increase or decrease Job Aware volume), and there was a noticeable difference between each mode.
I've seen some criticism of Milwaukee's choice to go with Passive Noise Canceling over Active Noise Canceling. Again, I don't get it because the Milwaukee Ear Buds effectively cancel noise.
Overall, I was happy with the sound quality and ease of the touch controls.
Milwaukee Ear Buds vs Apple Airpods PRO
Milwaukee Ear Buds sell for $179.99, meanwhile Apple Airpods PRO 2nd Generation are available on Amazon for $199. People are a little surprised that Milwaukee is selling their earbuds for almost as much as Airpods. However, I don't fully understand what the big deal is.
The runtime on the Milwaukee Ear Buds almost doubles the 4-6 hour runtime of Apple Airpods. The REDLITHIUM™ USB 3.0 Battery, which can be used with other smaller Milwaukee products, is $35-$40 on its own.
Milwaukee also has multiple ways to adjust the fit of the earbuds, and in my opinion are much more comfortable. This fit is also supposed to be more secure and stay in when you're sweating on hot days, or shaking from tools like jackhammers.
The haptic touch controls in Apple Airpods may be an advantage over Milwaukee Ear Buds button controls. Haptic touch is generally easier, but the technology isn't perfect when users are wearing construction gloves. That's probably why Milwaukee went with actual buttons.
All things considered, the Milwaukee Ear Buds are unnecessary…if you're not a construction worker. These earbuds may not be a jobsite essential, but I definitely see the benefit of them for workers who just want to listen to music while they're busting through concrete on hot summer days.
Are Milwaukee Ear Buds Worth It?
Yes, $179.99 is expensive. There are a lot of wireless earbud options out there and the prices range all over the place. I'm not going to say these are better or worse than your favorite earbuds, just different. My only concern about cheaper options is…
They are not designed to stay in throughout the demands of a trade professional's work day. Earbuds that fall out mid-job can be a distraction.
Earbuds like Beats Flex have a neck strap. This may be great for catching earbuds, but they also create a loose chord that can get caught in a tool or machine.
Both of these add risk. You can always stop what you're doing to pick up the earbud that fell out, and loose chords can get caught on machinery.
If you are determined to look for a cheaper earbud suited for construction workers, then I suggest the DeWALT True Wireless Bluetooth Earbuds for $71.99 on Amazon. I can't promise they fit as well, and reviews say the sound blocking could be better, but these earbuds are better suited for construction workers.
Final Review of Milwaukee Ear Buds
So are the Milwaukee Ear Buds the best earbuds for construction workers? I can't say for sure, but there is definitely a reason for construction-appropriate earbuds. At this time these earbuds are only available through select retailers. I'm excited to hear what more people have to say about them as they become more available.
So, I have to ask: What do YOU think of the Milwaukee Ear Buds? Are they too expensive? Is the sound quality superior? Do you prefer something else? COMMENT and let us know.
Editor's Note: We spell it "earbuds". Milwaukee spells it "Ear Buds". Hope this explains our inconsistent spelling.