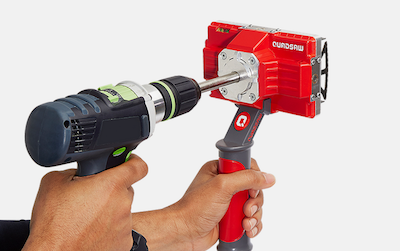 Why is the earth round?  Why are tires round? Even drill bits are round!  I am sick of the round, it's time for a square revolution.  Are you with me?  Luckily the Quadsaw is available for all of us who want to escape the normal round hole.
From what I can see the Quadsaw connects to any drill and uses 4 oscillating blades to cut a perfect square or rectangle.  The handle telescopes down to provide stability when cutting.  The price tag of this beast hovers around the $250 mark and you can only cut through plaster or drywall walls.  I forgot to mention it only cuts two sizes, a square and a rectangle.  These sizes correspond to electrical boxes in Europe.  Check out more via the Quadsaw website.
If you want to cut through other materials like metal, check out our man in Amasterdam AvE.  He  has a cool video on how to make a square hole.