REVIEW OVERVIEW

Quality
Features
Ergonomics
Performance
Value

SUMMARY

Milwaukee owns the 12V market. Their flagship M12 drill and impact have been redesigned to be even more impressive then Gen 1. The set is lightweight and powerful and will give some 18V's a run for their money.
As a professional your day to day tasks can change.  One day you might be drilling concrete and then next you might be hanging cabinets.  Just how there are different jobs, there are also different tools for these jobs.  We all love power, but not when it comes at a cost of extra weight, especially when we don't need all the power and weight in a cordless tool.  If you look around, each manufacturer is trying to create their own solution for these different tasks.  Milwaukee is splitting there products into 12V and 18V and creating one of the largest platforms and becoming one of the largest power tool manufacturers.  This brings me to day's article, the Milwaukee M12 Drill and Impact Review.  They redesigned their popular 12V drill and impact.  They made it smaller and gave them more power.  So how do they stack up?  Let's find out.
Milwaukee M12 Drill and Impact Review Overview
A while back Milwaukee came out with the M12 Drill and driver model 2597.  Both power tools were small, powerful and produced record run times.  So when I heard they were coming out with a Gen 2 model, I was surprised and excited to see what made these special like the previous models.
While there are plenty of time you will still need your 18V power tool, there will also be plenty of times you can leave them behind and use your lighter weight M12 tools, which means working more efficiently.
When it comes to 12V tool, no one competes with Milwaukee Tool.  They have all most all professionals covered for a wide variety of solutions.  This is one of the reasons that I love their M12 line.  Not only is it powerful, but they have so many product specific tools to help the professional.
Milwaukee M12 Drill and Impact Review Features
The new Model 2598 will replace the older version 2597.  So what do you get?  You get more run time, more power all in a smaller tool.
Each tool can be powered by any of the M12 batteries such as the 2 Ah battery or the 4Ah battery which will add a little more weight but give you more run time.
Milwaukee Hammer Drill/Driver 2504
I have to admit I have always been a fan of the Dewalt 12V tools, but their lack of tools in that line leaves me having only one option, the Milwaukee.  With this new Hammer Drill, I can say that I am a bigger fan of this new drill and would take this over the Dewalt.
The burshless motor hammer drill is designed to produce 350 in/lbs of torque and only weighs in at 2.3 lbs.  On hammer drill mode you can expect the tool to have an output of 32,000 BPM.
Milwaukee uses the same grip style and rubber handle you are familiar with in their other M12 tools.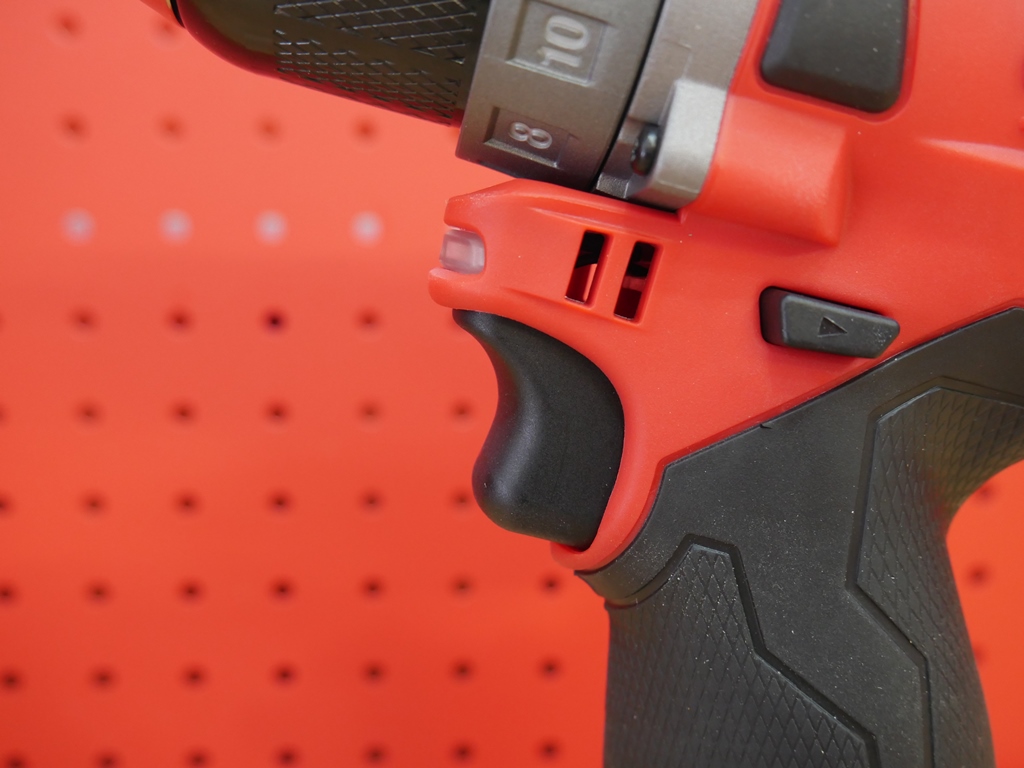 The variable speed trigger is easy to use and keep a consistent speed even when not using it with it fully depressed.
The drill has 2-speed settings which will produce 1,700 RPM's.
As you would expect with a professional tool, Milwaukee designed this with a 1/2″ all-metal chuck.  I am not 100% sure, but it looks like a Jacobs chuck.
The 2504 features 17 torque settings along with a drill and hammer mode.  Milwaukee uses a single sleeve system to keep the overall length down.
The LED light is located just above the trigger and it lights up an area of what you would expect and use to with other tools that have the LED located here.
As you can see Milwaukee really shortened this drill which means you can access more places with lighter weight, but more power.  The new drill is only 6.6″ long.
Milwaukee Impact Driver 2553
This is probably my favorite impact driver on the market and that I mean favorite of any 12V or 18V impacts.  The impact is lightweight and comfortable.  As with the drill, this impact utilizes a brushless motor.  The tool puts out 1,300 in/lbs of torque.
The grip is the same style as the drill and other M12 tools which I think is important so when you move from tool to tool, you don't notice the difference in your grip or feel.
The variable speed trigger has a nice feel to it but you have to depress the trigger all m ost a 1/4 of the way before the tool kicks on.
The impact is designed with a 1/4 in. Hex.
Milwaukee doesn't have a battery fuel gauge on the batteries, so they include it on the body of the tool.  Just like the hammer drill this has four bars for the status gauge.
Here is one of the coolest features of this tool, a push button selector.  The recessed selector has three speed along with a self-tapping screw mode.
Speed 1 – 0 – 1,300 rpm
Speed 2 – 0 – 2,400 rpm
Speed 3 – 0 – 3,300 rpm
The self-tapping is a cool mode which helps prevent walking when starting a screw as well as prevent breaking and stripping out screws.
As with the hammer drill, the impact has an LED light just under the head of the tool.
Again, Milwaukee made this tool shorter allowing it to reach hard to reach places.  The impact only measures 5.1″ in length
Milwaukee M12 Drill and Impact Review Performance
It's hard to really showin an article, but the impact is awesome.  Very smooth and never found myself fighting this tool.  It drove 3″ screws like nothing and never had to push hard on the impact.
The drill is just as impressive.  Very smooth and easy to work with.  Didn't matter if we were using a 1/2″ drill bit or a 1-1/2″ Spade Bit, the drill rocked.
Milwaukee M12 Drill and Impact Review Value
You can pick this pair up along with a charger, (1) 4Ah Battery, (1) 2Ah Battery and a bag for $230 at The Home Depot.  For me, this is a steal.  The drill and impact driver are extremely versatile, lightweight and powerful. What else can you really ask for in this price range?  In this price range I think everyone should one.
Milwaukee M12 Drill and Impact Review Final Thoughts
Bottomline, Milwaukee hit a home run with this kit.  Both tools have significant upgrades which make it worth upgrading from your previous generation.  The tools are smooth, lightweight, powerful and love the small sizes.  The fact that Milwaukee has a huge M12 line is just a plus.
I love how Milwaukee included both battery styles in this kit so as a user, I can decide which on to use during my task.  Anyone looking for a powerful and well thought out drill and impact, I would take a look at the Milwaukee 2598.