There are very few lines from a tool brand that was as instrumental in changing the tool storage game as the DeWalt Tough System and the DeWalt TSTAK System. DeWalt is a manufacturer that tool user's trust and rely on for both professional power tools as well as unique storage solutions. While these solutions may be best known for their performance on the job site, DeWalt hasn't forgotten the home and shop storage needs so many users crave. Today we take a look at a tool chest that is heavy in features and nothing but heavy-duty in construction. Let's dive into the DeWalt Tool Chest Review.
DeWalt Tool Chest Review Overview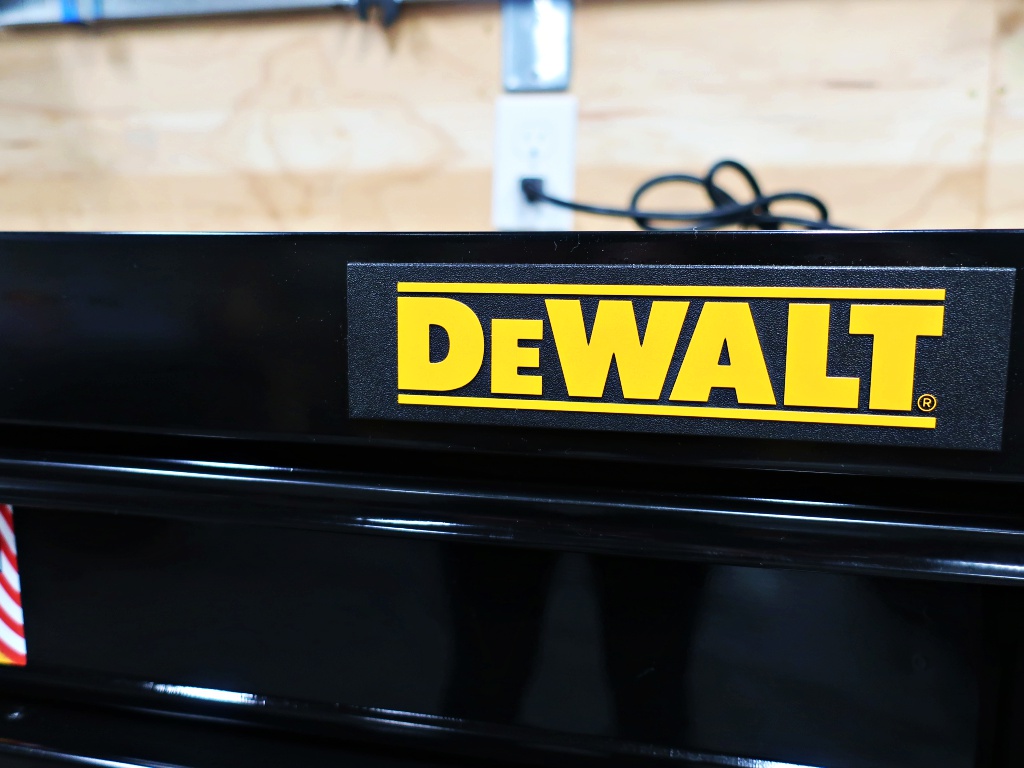 Garage storage can come in many forms. Cabinets, whether made or purchased are a classic. Shelves are another common choice, but for a lot of shops, tool chests are a great option. They allow incredible storage potential with generally high weight limits, all while giving you enhanced protection as well from environmental hazards. Things like fine dust and paint overspray, for example, can wreak havoc on the motors and battery connections found in our power tools. As well, features like locks add an additional layer to tool protection by preventing unwanted access.
DeWalt has been around for a long time, dating back to 1923, when Raymond E DeWalt founded the brand. What is interesting is that Mr. DeWalt also invented the "Wonder Worker" also known as the Radial Arm Saw, a tool still used in shops today although they are less common than they once were. It started a legacy that DeWalt maintains today, creative and practical solutions that all tool users appreciate. Today, DeWalt is owned by power tool giant, Stanley Black & Decker. In recent times they've revolutionized cordless power tools with their FlexVolt line and brought more cordless woodworking tools to the forefront. If one thing is certain, it is that DeWalt will always be a brand to keep your eye on for innovation.
DeWalt Tool Chest Review Features
DeWalt 52-inch tool chest, Model #DWST25182 includes 9 total drawers of various sizes with a total of 18,058 cubic inches of storage.
Made of 18 to 20-gauge double-walled steel the DeWalt chest is designed for heavy-duty conditions and long use life. Additional reinforced mounting channels also enhance the overall strength of this tool chest. DeWalt makes these tool chests in the USA with Global Materials.
DeWalt went big on the casters, featuring 6-inch by 2-inch wheels. As is standard with tool chests, two casters are fixed, while two others provide a swivel for mobility as well as a lock for when movement is not desired.
Each drawer features ball bearing slides that allow full extension for convenience and enhanced access. The drawers support 200 pounds of weight and the top drawer supports 300 pounds for a total of 2500 pounds of tool storage. The variance of sizes and depth of the drawers provide the ultimate storage customization.
POSI-LATCH drawer locking system allows for easy drawer opening with a simple pull of the trim and allows secure latching for ideal protection.
DeWalt included a side handle with a full overmold for improved grip and easy movement of the chest.
The integrated power strip includes six AC power plugs as well as two USB outlets. The inclusion of this makes all the difference in convenience when charging batteries and powering tools.
The keyed locking system provides additional security to protect the investment of your tools.
Non-slip mats designed to fit each drawer as well as a top mat provide a non-slip surface as well as add additional protection to the finish. All mats are embossed with the DeWalt logo.
DeWalt Tool Chest Review Performance
DeWalt makes a fine tool chest with this offering. The drawers are heavy duty, with options that can hold a lot of tools and provide some great organization. I love the drawers and how well they open or close, smooth and without the awkwardness you often find with tool chests. The steel is thick, offering heavy bodied support and allowing the high weight limit to be possible. The seams have been nicely reinforced and certainly add to the solid construction of them. The drawers are nice and deep and allow even bulkier tools to be stored, something necessary when looking at awkwardly shaped tools like hammer drills or circular saws.
I have really enjoyed these tool chests. Ultimately, you have unlimited potential to take a cluttered space and revamp it entirely. The casters are also something of beauty. While generally, I find myself disappointed in most casters, these are incredibly heavy duty and roll easily around the shop. The locks on the casters are also quite effective at keeping the tool chest stationary when desired. The lined drawers assure your coveted collection of hand tools don't slide around which makes the casters that much more valuable. You can actually move the chests without your tools becoming a mess. The side handle is solid and easy to control, and the overmold does excellent at assisting your grip when moving the chest even with slippery hands. I love the top work surface too. Initially I debated whether I would prefer wood but honestly, I love the top it has. It has a slightly receded top and the non-slip mat is efficient at keeping tools stationary, nothing rolling away here.
I would be hard pressed to talk about all of the amazing aspects of this tool chest and skip the power strip. It is absolutely a bonus in this tool chest, and I love that DeWalt also included the USB ports for extra versatility for users. Additionally, these chests had a great finish on them, something that is oftentimes unreliable in tool chests. I had no areas where the finish wasn't pristine. These tool chests are a great addition to a shop with features virtually every tradesman will love.
DeWalt Tool Chest Review Value
The DeWalt Storage Chests come in around $900 dollars with detailed vendor list available at DeWalt.com. Tool Chests are always an investment and these are well worth their cost. Protection, organization and quality construction make them excellent options to consider.
DeWalt Tool Chest Review Final Thoughts
DeWalt is a brand you know you can trust when it comes to tool storage. This specific chest falls neatly into a category of excellent storage that is versatile enough to please any user. Heavy-duty construction allows an incredible weight load on these and adds to their quality feel. The casters make quick work of movement and provide a great way to make this storage chest mobile. The side handle is robust and easy to grip, making this a truly mobile solution. The power strips with USB ports just add another layer of convenience to these Tool Chests as well. DeWalt skipped nothing in producing timeless tool chests that focus on quality and durability as well as features both homeowners and professionals will appreciate.