To keep you informed of new jobsite workwear being introduced to the market, here we give you our first impressions of two new work boot styles from Danner Boots.
Charles Danner set out in 1932 to make the best-built boots for loggers. Today Danner Boots is known for producing high-quality, hand-crafted, long-lasting boots for hiking, hunting, work, and even tactical boots for firefighters and the military. Danner Boots Caliper boots are mid-priced and focus heavily on comfort. Danner Boots Crucial boots are about $100 more than their Caliper style and utilize Danners' engineering designs for state-of-the-art structure and foot support for all-day-long comfort.
Danner Boots – Caliper Boots
Name – Danner
Style – Caliper 6″ Soft Toe Waterproof Boot – 19452 (Brown)
Price – Under $140
Where to Buy – Amazon
Danner Reviews – Danner Boot Reviews
Danner Boots – Caliper Boots – Features
Danner Caliper boots are built for comfort with full-grain leather uppers, two layers of cushion in the footbed, and two in the soles. These are meant to keep you comfortable all day on the jobsite and everywhere you need your boots to take you. This soft toe version comes in on the lighter side at 48 oz. per pair. If you're looking for safety toe boots, Danner also offers these with an aluminum toe that meets or exceeds ASTM F2413-05 M I/75 C/75 EH standards.
Danner boots are handcrafted with triple-stitched construction and made from high quality, soft full-grain leather for long-lasting comfort right out of the box. Danner's soft leather is also rigorously tested for strength and durability.
Danner Dry lining is 100% waterproof but still breathable to let sweat and moisture out.
Danner Caliper's lacing has eyelets that start deep down on the foot for better fit control, and provides the convenience of speed hooks at the top of the boot.
Danner Caliper boots are cushioned around the top with an approximately 12.2″ opening.
The Caliper outsole offers indoor/outdoor slip-resistance, memory foam for comfort, and provides electrical hazard (EH) protection.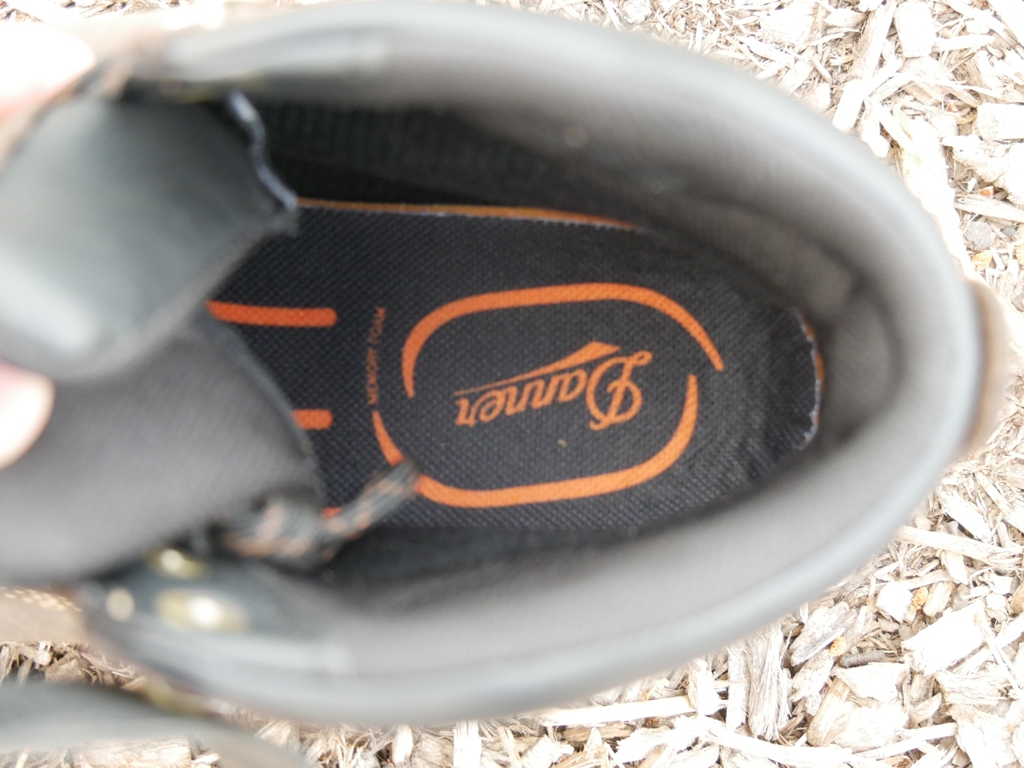 Inside you'll find two layers of cushioning for your feet and legs: a PU/memory insole plus a polyurethane midsole. This combined with the two-layer construction of the outsoles gives you four layers of impact-reducing comfort.
Danner Boots – Crucial Boots
Name – Danner
Style – Crucial 6″ Waterproof, Composite Toe (NWT) Boot – 15861 (Brown)
Price – Under $240
Where to Buy – Amazon
Danner Reviews – Danner Boot Reviews
Danner Boots – Crucial Boots – Features
These hiking-inspired boots utilize several of Danner's proprietary construction designs, maximizing how they fit, feel, and perform.  Crucial boots are waterproof and hand-crafted from Danner's soft, durable full-grain leather. This version includes composite (NMT) toe protection and weighs just under four pounds.
The Crucial boot construction design is a more athletic fit but with plenty of toe room. The outside toe-end of the boot is wrapped in an additional wear-resistant rubberized layer.
The Crucial boot has a low-profile 90° heel. And like the toe, the heel of this boot is wrapped with additional wear-resistant protection.
This style of Crucial boots has composite toe NMT (non-metallic toe) protection. NMT does not conduct heat or cold and can also pass through a metal detector. The NMT toe protection meets or exceeds ASTM F2413-18 I/75 C/75 EH safety standards.
The Danner Crucial boot was designed for a flexible, secure fit. Plenty of lace eyelets for fit control and heavy-duty speed hooks at the top. The Crucial style offers 6″ and 8″ boots with the composite toe protection as well as a plain toe 8″ boot.

The opening of the Crucial boot is well padded and the leather upper wraps around the sides for extra support. The inside has breathable GORE-TEX 100% waterproof lining. The insole is where Danner maximizes their proprietary construction with their TERRA FORCE NEXT shank system for arch support and torsion control, and a shock-absorbing, removable polyurethane footbed with open cell construction for better circulation.
The sole of the Crucial was designed and engineered for all-day-long comfort and go-anywhere performance. Start with the maximum support and comfort from their Vibram® SPE (Specialized Performance Elastomer) midsole. Marry that with the added forefoot flexibility from their Bi-Fit stability board. And round out the sole of these boots with excellent traction from their lightweight oil-and-slip-resistant Vibram® Crucial outsole.
Danner Boots Our Thoughts
It appears fit and performance are both top priorities for Danner Boots, as well as offering a very broad selection. Danner has almost 80 different styles for men and about 40 for women (and they even have flip-flops!). Each style is designed and engineered to meet specific needs. And within each style, they offer options for boot height, color, and different types of toe reinforcement. I really like that with so many options you can probably find just the boot you are looking for.
Danner Boots Wrap Up
The look and feel of these two new offerings from Danner stay true to Danner's place in the work boot market – providing comfortable, durable, well-crafted work boots. Great work boots can be one of the most important "tools" you purchase. These are definitely worth considering for your next set of boots.