Routers are a shop staple. Very few tools can add so much beauty and function to your builds, and you'd be hard pressed to find any woodworker that doesn't own at least one. One router option is a palm router or finish router. I sort of see palm routers as a full-size routers baby brother, compact and portable. Now they aren't entirely new most manufacturers offer some option for these mini routers and often even cordless options., They all have pretty solid reviews, but despite all the positive aspects, I just never jumped on one. That all changed when I saw an early press photo of the new one from Bosch. I couldn't wait to get my hands on the 12V model that promised power and performance all in one small package. So what makes the Bosch Cordless Router so special? Read on in the Bosch Cordless Palm Router Review to find out.
Bosch Cordless Palm Router Review Overview
We've talked quite a bit about Bosch lately, and it's completely warranted. The new introductions to their 12V platform, like the 12V Planer have been innovative and well thought out. Bosch has been around since the late 1800's and is still largely owned by the Bosch family. While they are involved in an incredibly diverse range of businesses, we know and love them for their tools. When buying a staple, like a router, planer, etc, Bosch would be one of my first picks for a professional. Their build quality always stands out as well as their dependability. I haven't personally used a lot of their 12V line tools, but for Bosch, they have been very popular and are incredibly well regarded. With advances in battery technology, tools we never imagined could go cordless are. With batteries smaller to boot.
I have a lot of love for routers. They are multifunctional, adding beauty and flare to a piece. Adding specialty bits can lead to perfectly cut joints, finish edges and a wealth of other things. There are also several different types of routers. From a fixed base, plunge base, and likely the most common set up in a shop is with a router table. Trim routers are a newer addition to the mix and have grown in popularity in recent years. They allow for quick edge routing and the decrease in weight gives an advantage in quick jobs and portability. Where Bosch decided to take the smaller routers further is to not only use a smaller battery but to change the grip and workpiece contact entirely.
Bosch Cordless Palm Router Review Features
The 12V Cordless Palm Router from Bosch offers 13,000 rpm powered by a brushless motor and weighs in at only 2.2 pounds bare tool. The estimated 23 ft per Ah battery life allows quick jobs to be completed effortlessly.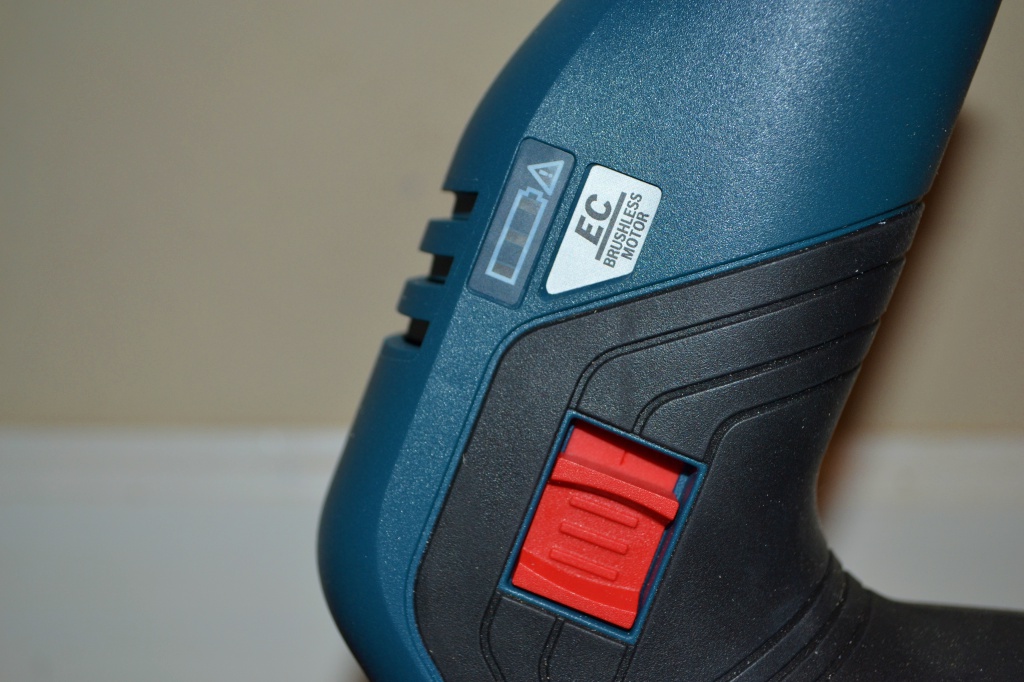 The constant speed circuitry monitors and maintains the motor speed for consistent performance. As well the side switch turns with a flick of your thumb for easy on/off control. The onboard battery indicator allows you to easily gauge battery life.
Bosh designed this Palm Router to be lightweight and well balanced. The grip design is very intuitive and comfortable to use.
The offset design increases stability over the workpiece giving superior performance and results as the router and grip remain over the workpiece. Traditional palm routers place the grip centered above the bit, which can cause some issues with weight displacement and balance.
The macro depth adjustment is ideal for initial setting, pressing the black side buttons allows you to eye the ideal depth. The fine depth adjustment knob allows for precise tuning (.04 inches per revolution). There is a fixed adjustment screw that you can turn from the bottom of the tool to lock into the knob and set the height.
The depth adjustment system features a lock to ensure consistent depth, as well as keeping adjustments ultra precise.
The spindle lock which is a red latch on the front of the unit. Simply pull the locking bar out to allow the bit to be changed and push in to lock the spindle. Bosch provides an included wrench.
Bosch included several safety features. The drop detection sensor stops the motor if dropped, and the restart protection prevents the router from restarting accidentally when batteries are changed.
Finger barriers protect contact with the bit area which can result in significant injury.
As well the finger rests on the base shoe provide a natural resting place.
Bosch Cordless Palm Router Review Performance
This router really impressed me. So often a new tool will launch and once you actually get your hands on it, you feel a bit underwhelmed. This tool certainly exceeded my expectations and is everything I expected it to be and more. The bits I used aren't ultra high end, rather being a Black Friday special from last year. Given that, the cut quality and end finish were very impressive. The battery life is decent too, I was able to get quite a bit out use out of each 2.0Ah battery. The way the bits are inserted keeps the bits secure during use. I appreciate the extra lengths Bosch takes to prevent injury during use too. Features like the motor not starting while the spindle lock isn't engaged are always important in a tool like this.
Its lightweight, making it comfortable to use and have significantly less wrist fatigue than full-size routers. One thing that stood out to me was the ergonomics. When you use the router, it's incredibly comfortable and feels natural. I have a router from Dewalt that is an amazing full-size router, but when you are using it free handed you can easily lose control of it, making it a better option for use with a router table. The Bosch router is easy to control, and I had no problem keeping the bit against the wood without an incredible amount of effort.
Additionally, the way the base of the router is designed is probably its second biggest asset. The larger base plate and oblong shape allow for increased security against a workpiece. A traditional router, especially a palm router does not have a ton of material surrounding the bit, making it easy to wobble. Rather than centering the motor and grip, and likely a battery if it's cordless, directly above the bit, the offset design makes a huge difference in how it sets to the edge of a piece. This is likely why so many people have preferred the use of a router table. Combining this design change with the lighter weight and grip, Bosch allows for truly one hand operation while remaining stable. All in All, this router is a game changer.
Bosch Cordless Palm Router Review Value
Bosch priced this router Model #GKF12V-25N at $149.00 as a bare tool and can be found on Amazon. If you're already into the 12V line, the price is a no-brainer. Most compact routers run a bit less than this one, but I feel like the grip, performance, and weight makes it still a good value. The one small improvement would have been to include a case. I think that's a personal preference of mine for tools like this as it is always a nice touch.
The professional is going to appreciate the excellent build quality as well as the superior results the router gives with its new design. The homeowner will enjoy this router as a very useful and multi-functional tool that has a very small learning curve. For the quality and performance of this router, the price tag is easily justified.
Bosch Cordless Palm Router Review Final Thoughts 
Bosch has really come out strong lately. With innovations for all types of tool users, it's no surprise that this router is incredible. The Bosch 12V Cordless Router uses a considerable amount of technology to achieve the impressive performance and quality in such a small footprint. When Bosch sets out to improve a tool, they don't hold anything back. For me, this is one of my favorite new tools of 2018. If you've been on the fence on purchasing a palm router, this Bosch model may just push you over the edge.