Milwaukee is starting to make a name in the hand tool world.  It's weird to think back just 5 years ago.  Not even sure...
As technology gets better, so does the understanding of the human body.  What makes it tick, what makes it better and what hurts our...
We all know having the right tool for the job can make a world of difference.  Having the correct tool can make the job...
What is your favorite level?  One thing is for sure, I am sure some will say Milwaukee which is weird because they are new...
Have you ever heard of Powernail?  If you are in the flooring business, then you definitely know who they are.  If not, it's an...
Anyone from an electrician to a plumber to a carpenter can always be more efficient when cutting metal.  While there are a variety of...
So when it comes to impact, what power tool manufacturer comes to mind?  While I know there are a variety of companies, most people...
What pneumatic nailers do you think of when you think longevity, history, and usability?  I am pretty sure that Senco came to mind first...
Bosch is one of the premier professional power tool brands on the market.  While they are known for their concrete tools and measuring tools,...
What do you think of when you think of Bosch?  Probably concrete, cordless tools, and saws.  Do you think of drivers?  Maybe some of...
For those of you who follow the tool world, you had to conclude this was coming, the Milwaukee cordless rear handle circular saw.  If...
This article is not for the mechanic.  Sure as a mechanic you can buy these sockets and I think they will suit you fine. ...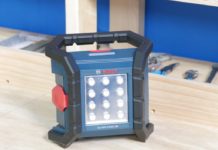 A while back we told you about the Bosch area lighting and we received some cool emails about this light.  Well, the time is...
Tis the season for grilling.  I am not sure about you but nothing says summer like a good grilled steak, hamburger, hot dog or...
Diablo is one of the premier blade manufacturers in the world.  They offer so many blades and so many sizes.  If you are looking...