As someone who knows plenty of blacksmiths and welders, I would say that over 75% of them have a DeWalt grinder in their starting lineup. Granted, these are mostly corded grinders, but DeWalt has gotten it right with their angle grinders compared to other tool manufacturers. Yet again, they grind their way towards the front and hit the mark with the DeWalt Cordless Angle Grinder Review.
DeWalt Cordless Angle Grinder Review Overview
In an array of cordless angle grinders, only a few stand out due to the nature of the tool. The angle grinder, at its core, is an intense tool. One for cutting through very hard materials like concrete and steel. To do this, it requires substantial power and high-performance motors. It also requires a rugged design that plans for the longevity of use in rough environments. On top of all of these factors, safety is key. The angle grinder can become a very dangerous tool if misused or defective. Taking all of this into consideration when making a decision on a cordless grinder is important for homeowners and professionals alike.
After using the DeWalt, I definitely like it. Admittedly, other than my weird obsession with drill/drivers, angle grinders are my "favorite tool." But to be completely candid, for someone like myself who does a large majority of work from a home shop, it's hard to replace a corded grinder. On the other hand, the pesky cord is a huge annoyance to me and a safety concern. With that being said, from now on, I'll leave the corded grinder in the cabinet for when I absolutely need it. The cordless tool has yet again won me over, especially since the DeWalt has some great features and tremendous build quality.
DeWalt Cordless Angle Grinder Review Features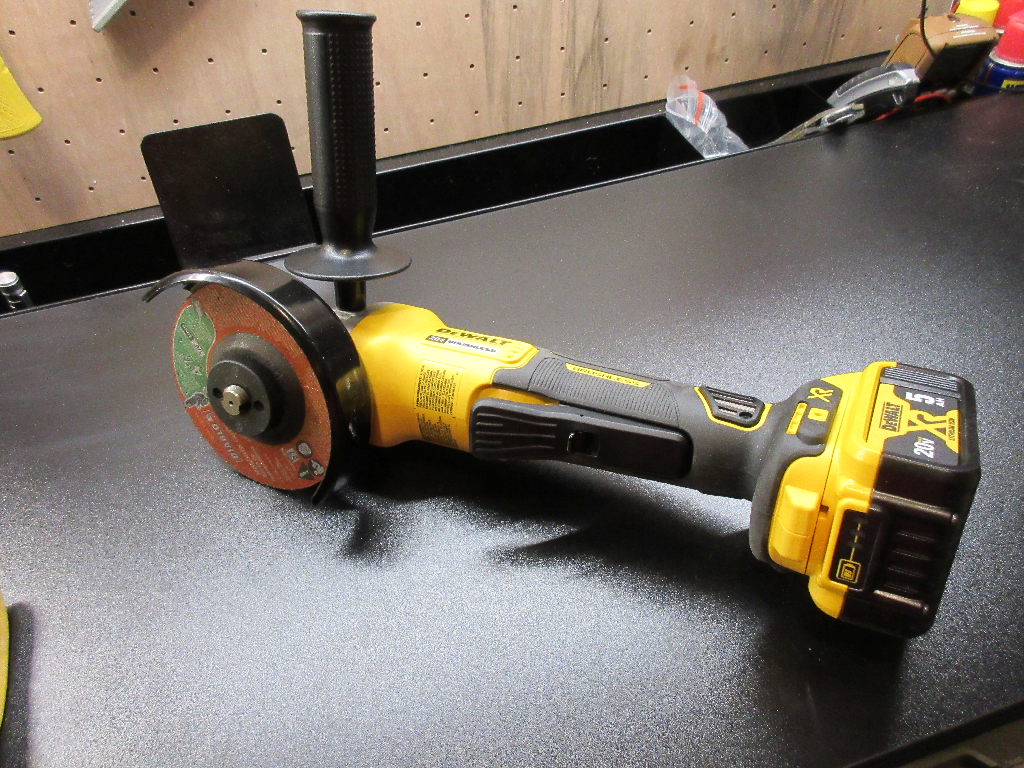 Truth be told, on the grinders' I had growing up when learning to weld, there were no guards. More recently, my corded grinder is absent of one as well since it had perished after a hard drop. This DeWalt has one that will stay on! The very robust type 27 steel guard is adjustable and locks to whatever position you desire. Being able to direct your sparks and residual chips is important, and this guard does a fine job. Also, this model sports a 4.5in wheel, the general standard that is perfect for almost any application. Additionally this grinder runs on DeWalts 20V battery platform.
As I mentioned above, angle grinders can be dangerous to operate. In case of an accident you definitely want the cutting wheel to stop as fast as possible, rather than wind down. To accomplish this, there is a brake feature in the tool. Now, don't confuse this with an actual device braking the rotation of the business end. Instead, via the motor, all current Is cut, and the gears stop within 2 seconds or less. This happens during any binding, pinching, or stalling occurs.
The brushless motor on the DeWalt turns at a nicely paced 9000 RPM under no load. Sure to be more than enough juice for any project. To learn more about brushed and brushless motors, be sure to check out this recent article that explores their key differences.
The two-stage trigger is a great best practice that has been incorporated into the tool. Before the paddle can be depressed, another small trigger must be activated. This reduces the risk of accidental activation.
The general tool construction is very well done. The tool shell is composed of a material that we've discussed in the past and can be found here in What Your Tools Are Made Of. The PA66 30% glass fiber reinforced plastic is strong, impact resistant, and sturdy. The tool shell was also well molded, and was very easy to snap back together after looking under the hood.
In addition, I was happy to see plenty of parts either machined or turned on a lathe throughout the tool, a clear sign of quality.
The butylene rubber overmold is done quite nicely, with dovetail molding into the tool shell. The material is generally grippy, and this overmold is quite thick as well.
Grinding is messy, and DeWalt has done a pretty good job of minimizing the ingress of dust into the internals. Importantly, while still allowing ventilation of the motors. This is accomplished by some mesh vents installed near the rear of the tool. The mesh looks to be suitable for the micron size associated with metal and concrete grinding and is secured to the tool shell, rather than being part of the mold. I suspect that this is to allow some cleaning of the mesh. If so, great job on DeWalt for the design!
As for the rest of the tool, no unnecessary holes are present, and the trigger surprisingly has a boot to prevent debris from traveling into the switch. Overall, DeWalt has done a great job of reducing debris creeping into the tool.
As with most other quality angle grinders, access to the gearbox is quite easy with the removal of the gearbox shroud.
Once inside the main housing, the gears look to be of good quality, and liberally lubricated with the water-resistant, lithium-based molybdenum disulfide grease. If in the event your gears ever wear out or become damaged, replacing the drive gear, and accompanying spiral pinion gear is very easy. This is due to this smart design with easy access to the gearbox.
DeWalt Cordless Angle Grinder Review Performance
I really took my time in the testing, teardown, and during actual projects with this grinder and I'm flat out impressed. Angle grinders take a beating and should be made for this, accordingly. The DeWalt just flat out delivers.
When cutting and grinding carbon steel for knife making blanks, I zipped through a rough cutout in just seconds, then switched discs and began some very effective grinding.
The same can be said for concrete. I tested on several bricks and drained my battery while seeing how effective the tool was against one of the toughest challenges for grinders. Lastly, for a tool restoration, I'm working on, I was able to quickly and elegantly reface an antique masonry hammer. Overall, through everything, the DeWalt was effective and ergonomic. Obviously, this was best paired with their 20v MAX 5mAh battery!
DeWalt Cordless Angle Grinder Review Value
Having quality tools that handle tough jobs with metal and concrete is important, and not a place to skimp. And as mentioned above, build quality should be on par with price, since these tools will be taking quite the beating. The DCG413B is an example of extreme build quality and reliability for the money. You can grab the bare tool at The Home Depot for $169.00, a great price for a tool that will certainly last you a very long time.
DeWalt Cordless Angle Grinder Review Final Thoughts
After a long span of thinking that corded grinders were the only way to go – I'm turned! This DeWalt proved in such a short period of time that quality, price, and reliability can culminate together! In times when corners are cut for cost savings and profit margins by many competitors, DeWalt has proven again to be a front-runner, the DCH413B is proof of that!